The holidays are quickly approaching which means it's time for gifts, memories, and food! Families and friends come together to share meals and create memories. At Caputo's, we want you to have a hassle free holiday, so we will do the work for you! Our Winter Holiday Feast is perfect for the holiday season and will allow you to spend quality time with the family! This homemade feast features a main entree, multiple side dishes, condiments, and dessert! In addition, you get to choose form a variety of options to make the holiday meal customized to you and your guests' preferences!
We offer a full feast that will make your holidays much easier! Our homemade feast feeds 10-12 people and is made with all natural foods, no preservatives, and the and the nostalgia that comes with homemade food. For the main entree, there is a choice between an oven roasted turkey (14-16lbs) or an oven baked ham (5-6lbs). Both items are holiday classics with our very own signature apricot pineapple glaze!
You will get three sides–a half pan of sauteed vegetables, a half pan of homemade potatoes, and bread stuffing. There are multiple sides to choose from in each category. From mashed potatoes to sweet potatoes, from corn to mixed vegetables– we've got many options to choose from! You can also upgrade your stuffing to our signature italian sausage stuffing– it is even more delicious than it sounds! You will also receive half a pan of a garden salad with your choice of dressing and a dozen dinner rolls! To go along with your meal are condiments! You will get two cans of either jelly or cranberry sauce! Can't forget dessert! The feast comes with a fresh 8" La Bella Romana apple or pumpkin pie!
Check out more information on the feast here: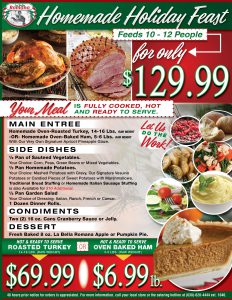 We also have the perfect platters for appetizers or desserts! Our variety of platters include a spinach bowl dip, cheese platters,  fruit trays, cookie trays, and more! The many options are sure to be a crowd please at any party or event!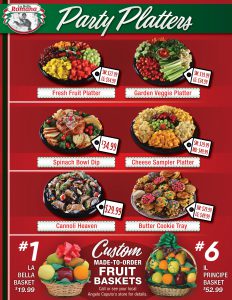 Our homemade feasts make your holidays easier. Holidays are meant to be spent with family and the homemade feast options make it so you can make the most of your time together with loved ones. You don't have to worry about the stress of cooking and prepping because we will do it all for you!
Stop into a store to see your options and place an order! You can also come sample the delicious food that will be served on 12/15 and 12/16 in all stores!