We're going mobile! We are very excited to announce the launch of our brand new app! Our app allows you to stay up to date with everything happening around Caputo's, gives you exclusive coupons only available to app users, and has brand new loyalty programs!
 One awesome feature about our app is that you can browse our weekly ad right there! Our ad is uploaded to the app so you can check out all of our sale items. You can also create your shopping lists. You are able to organize your shopping lists with titles right on the app. You can even email your list to someone so they can go shopping for you!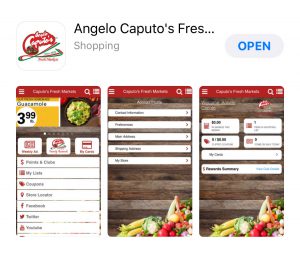 Another cool feature of our app is how much you can save! Not only will you be able to see all of our items on sale, but there are tons of coupons that will be available every day. When you first create an account, you will be asked to select the store you shop at most frequently. This will give you access to exclusive coupons. You can clip the coupons and start saving! All you have to do is scan your app at checkout and the clipped coupons are automatically applied!
Another unique feature is the loyalty programs. We have different clubs that allow you to earn rewards just for shopping. By downloading the app you have access to join various clubs. These clubs include a coffee club, a sandwich club, and a wine club. Each club tracks coincides with your purchases and gives you a free item or special offers on the items. We also have Family Rewards! With Family Rewards, you collect points and receive a gift card once you reach a certain amount of points!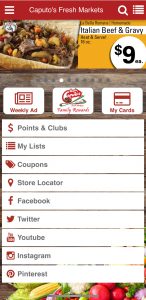 The app is available in the app store today, all you have to do is type "Caputo's" into the search bar in the app store and look for the icon with our logo! We're here to answer any of your questions you might have– feel free to stop into a store to ask or to email us! Join the family by downloading the app and starting to save! Look out for more new features in the future!