We are so excited to announce that we are expanding our partnership with another local, family owned business! Fruitful Yield has opened up in our Addison store. This is the third "store within a store" concept for our families. The partnership came naturally as we are both family businesses looking to nourish our customers. We both have a passion for looking out for the well being of our customers by providing the healthiest and highest quality products. We are thrilled to continue our partnership!
Our ribbon cutting is scheduled for 9am on Friday, 11/19. We have partnered with Fruitful Yield and will be raffling off a cooking basket full of Caputo's and Fruitful Yield products! Check out our social media pages for how you can enter.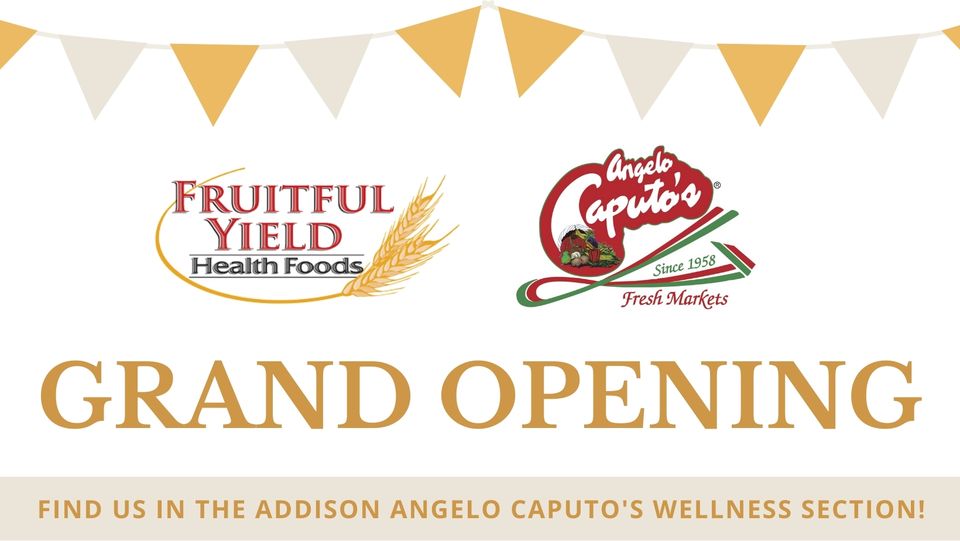 More on the opening:
Chicagoland's favorite local family-owned retailers have teamed up once again! Wellness and supplement shop Fruitful Yield and grocer Angelo Caputo's Fresh Market have partnered together to create a third extension of their store-within-a-store partnership.
An express version of Fruitful Yield can be found in Angelo Caputo's wellness department at its Chicagoland Addison location. Fruitful Yield in Angelo Caputo's plans to focus specifically on natural health, beauty and supplements. The goal of the stores teaming together is to provide shoppers with a one-stop-shop for all of their health, wellness and grocery needs.
Addison is the third Angelo Caputo's store with a Fruitful Yield in it–in addition to the Carol Stream and Naperville locations. The two companies are enthusiastic about the partnership.
According to Fruitful Yield President Joe Fulco, "We at Fruitful Yield are extremely excited to be expanding our partnership with Angelo Caputo's with the opening of our third Fruitful Yield store within Angelo Caputo's Fresh Markets in Addison. Our two family-owned brands take great pride in meeting our customers' unique needs. Whether it be with their food selection or our health and wellness section, together we work hard to create a memorable shopping experience for all of our customers."
"We are excited to further our partnership with Fruitful Yield by welcoming them into our Addison store." added Robertino Presta, CEO of Angelo Caputo's. "Having another local, family-owned company committed to health and well-being is a great match for us, and we look forward to growing our partnership."
Fans of the two businesses can come to the grand opening the weekend of Nov. 19. The ribbon-cutting ceremony is scheduled for Friday 9:00 am. The health store plans to hand out healthy goodie bags and raffle gift baskets to lucky winners throughout the weekend. Popular health brands will be on site with their own giveaways. Masks and social distancing are a must for the event.
Angelo Caputo's Fresh Market operates eight stores in the Chicagoland area. Bloomingdale, Ill.-based Fruitful Yield has 15 stores in the area
RSVP to the Ribbon Cutting here
From Our Family To Yours