Need an appetizer or finger foods to serve at a party? Need lunch to give your kids during this final stretch of school? Love italian deli meat? If the answer to any of those is yes, we've got a solution for you– our new Corona Sandwich!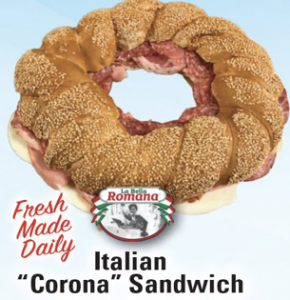 The Italian Corona Sandwich is the newest addition to our prepared foods section. The Corona Sandwich gets its name from the round shape. Corona means crown in italian. The  bread is circular and has points resembling a crown.
The sandwich is an Italian deli meat enthusiast's dream. It has all your favorite deli meats combined to give it an unparalleled taste. The sandwich features a trifecta of meats– mortadella, capicollo, and salami! Then provolone is added to complete the sandwich and give it a great flavor.
This sandwich is great for any occasion, especially the upcoming summer season! Summer is usually accompanied by parties and gatherings where often guests bring an appetizer or dessert to add to the meal. This sandwich is easy to cut and share which makes it a perfect appetizer. It can feed about 6-8 people. It pairs nicely with our homemade salads, chips, salsas, and more to make any gathering delicious and simple.