Now that Thanksgiving has passed, it's time to get into gift giving mode! Whether you have tons of people on your list or just a few, it can be hard to find that perfect gift. That's where we can come in because what's better than the gift of food! We have something for everyone! Here is a gift giving guide for you… Caputo's style
Here are some ideas for all the different foodies in your life!
Dolce & Gabbana Panettone
Panettone is a staple Christmas gift. It is a sweet bread that Italians enjoy around the holidays. It is a tall, dome-like shaped sweet bread that comes in multiple flavors.  The baking process is long and involves curing the dough, then proofing the cake to give it the fluffy texture. There are then extras added into the dry mix like dried candies, raisins, or chocolate chips! This dolce and Gabbana one adds the perfect special touch to this traditional gift. Imported from Sicily, it comes in a beautiful metal tin that has the signature D&G style and has a matching bag that the recipient can keep all year round
Oil and Vinegar
Every cook can use oil and vinegar! At Caputo's, we have more than just the basics! We have tons of oils and vinegars imported from Italy– classic and infused. You can gift a line of infused olive oils that bring delicious flavors into dishes– infused with chili, garlic, basil, lemon, truffle… so many options. We also have a wide range of vinegars. Balsamic glazes, raspberry infused, fig infused, imported balsamic, red wine vinegar, white wine vinegar, prosecco vinegar, and so many more. These are great gifts because it might not be something you pick out for yourself, but this gift could be the recipient's new household staple!
Cheese
Is there someone in your life who loves cheese? Then head to our cheese department and pick out a selection of some of our cheeses! We have cheese from all over the world and tons of different items that pair perfectly with cheese– fig spreads, infused honeys, imported nuts– everything you can think of! This is another great gift that allows someone to taste a variety of items they may not choose for themselves. Picking out a few items and putting them in a festive basket makes for a great gift. Need some ideas? Then check out our holiday cheese guide
Cookies
If you know someone who has a sweet tooth, stop by our La Bella Romana Bakery! We have a variety of homemade Italian cookies and butter cookies. People won't be able to resist! If you want to take it one step further, you can buy a nice plate or dish and put the cookies on there! Sprinkle some wrapped gianduia or torrone on top and you have 2 different gifts– the dish and the cookies!
Italian Candies and imports
If you have someone from Italy or someone who loves the Italian culture in your life, you've found the right place! We have tons of imports in our store, including the hard to find Italian candies. A goodie bag full of the candies or cookies is a simple and thoughtful gift! Limoncello candies or Nutella biscuits anyone?
Coffee
Who doesn't know a coffee lover? We have tons of coffee— pods, grounds, beans… you name it! We even have some of the hard to find ones that we import from Italy. Pair that with a moka espresso maker, some mugs, or even some coffee flavors or syrups for a coffee lovers dream gift. You can even throw in some la Bella romana chocolate covered espresso beans, some cappuccino hard candies, or some biscotti for dunking.
Fruit Baskets
Who doesn't love fresh fruit? That's why our La Bella Romana fruit baskets are another perfect gift. In 3 different sizes, these baskets filled with fresh fruits are a delightful and delicious gift to get during the holiday season!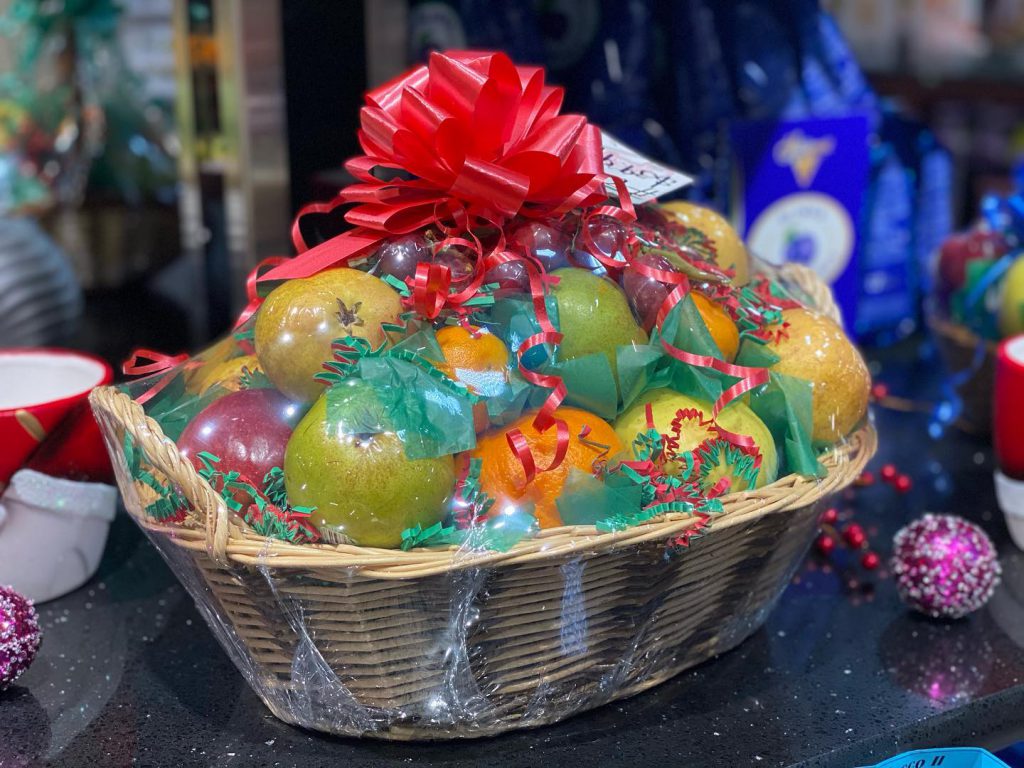 Need a bag to put the gifts in? Don't forget to pick up a Buon Natale Caputo's Bag! It makes for the perfect gift bag and shopping bag! Of course a Caputo's gift card pairs well with any gift! Pick up one in store or email events@caputomarkets.com and we can help you out!
From Our Family To Yours