For some people, it is always grilling season, and they don't need an excuse to get the grill out. For others, it's nicer to wait for days to get a bit longer and the weather slightly warmer before eventually deciding that today is the day for the grill. Whatever your preference, Caputo's has the best recipes that will have you wanting to grill every day of the year.
Cilantro-Salsa Steaks
These delicious Cilantro-Salsa Steaks are first marinated in a flavorful salsa overnight. They are then grilled to your desired perfection to release all that wonderful flavor for juicy steaks that are nice and tender. They can be served with salad, potatoes, or any other of your favorite side dishes that complement this appetizing meal.
Grilled Teriyaki Chicken Meatball Kebabs
Kebabs are a popular choice for a grill as the grill marks and taste enhance the flavor of the meat and the vegetables on the kebabs. These Grilled Teriyaki Chicken Meatball Kebabs can be personalized to suit the eater with all kinds of different vegetables, and once you've tasted one of the teriyaki chicken meatballs, there'll be no other kind of meatball you will want to eat again. If you're tempted by a kebab but want to try a different recipe, check out The Recipe Rack for a whole host of kebab recipes for you to try on your grill.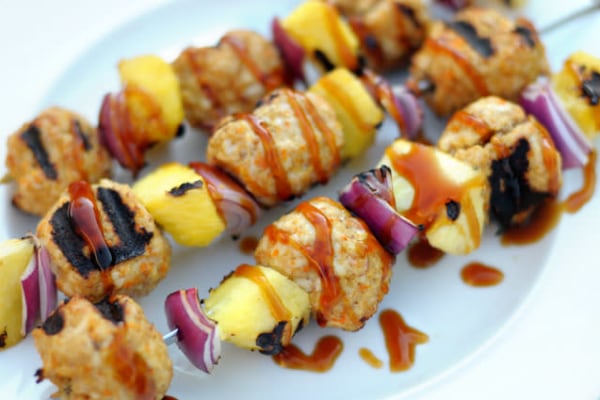 Shrimp and Avocado Tostadas
For something a little different on your grill, try our delectable Shrimp and Avocado Tostadas. These will surely become a firm favorite with you and any guests you invite for supper. Lime, avocados, grilled shrimp, and crunchy fried tortillas- we don't think it gets much better than that!
Grilled Desserts
The grill isn't just for savory. Try out some of these mouthwatering grilled desserts the next time you eat outside.
Bananas split down the middle and filled with chocolate and marshmallows wrapped in foil and put on the grill are an easy go-to dessert that will always thrill. The melted chocolate, marshmallows, and heated bananas go down so easy you'll have to put your name on one to ensure you get a bite!
We all love savory kebabs, but have you tried a grilled fruit kebab? Heating the fruit allows the total juiciness and flavor to come out, and served with a side of whipped cream or ice cream tops the whole thing off wonderfully. Fruits like pineapple, peaches, watermelon, and pears are just a few fruits that are great on the grill!
Shop Your Food Supplies at Caputo's
Caputo's equals quality food. Whether you are looking for ingredients for your next dinner party or are looking for inspiration for midweek meals, Caputo's has everything you need. When planning your next outdoor grill session, choose Caputo's for your ingredients and try out some of the recipes above. The Recipe Rack even enables you to add ingredients straight from the recipe card to your cart for easy shopping. We also have plenty of stores to visit if you prefer the in-store experience. Shop at Caputo's online or in-store today.
From Our Family To Yours