Whatever you eat on June 2nd, it had better include one or two rotisserie chickens to celebrate National Rotisserie Chicken Day!
Rotisserie chicken is a chicken cooked on a rotisserie, using direct heat to cook because the chicken is placed next to the heat source. The chickens are put onto rods that rotate to ensure optimal juiciness and cooking.
You can feel good about feeding it to your family. Our chickens are always fresh and never frozen. There are no added hormones or steroids and they are MSG free. In addition to these benefits, the taste is incredible!
Our chicken is known for its outstanding flavor and juiciness. We season it with a special herb rub. The special seasoning is made with a variety of different herbs and spices to give the chicken a unique and delicious flavor. It is our homemade blend that we took the time to test and develop until we got it to the special blend we were proud to feed you and your families!
We offer three different styles of rotisserie chicken– traditional, Mexican, and jerk. Each different style has a unique flavor profile you can't get anywhere else!
We love using rotisserie chicken in recipes that call for shredded or pulled chicken– in soups, on nachos, and in buffalo chicken dips are just a few ways we use it!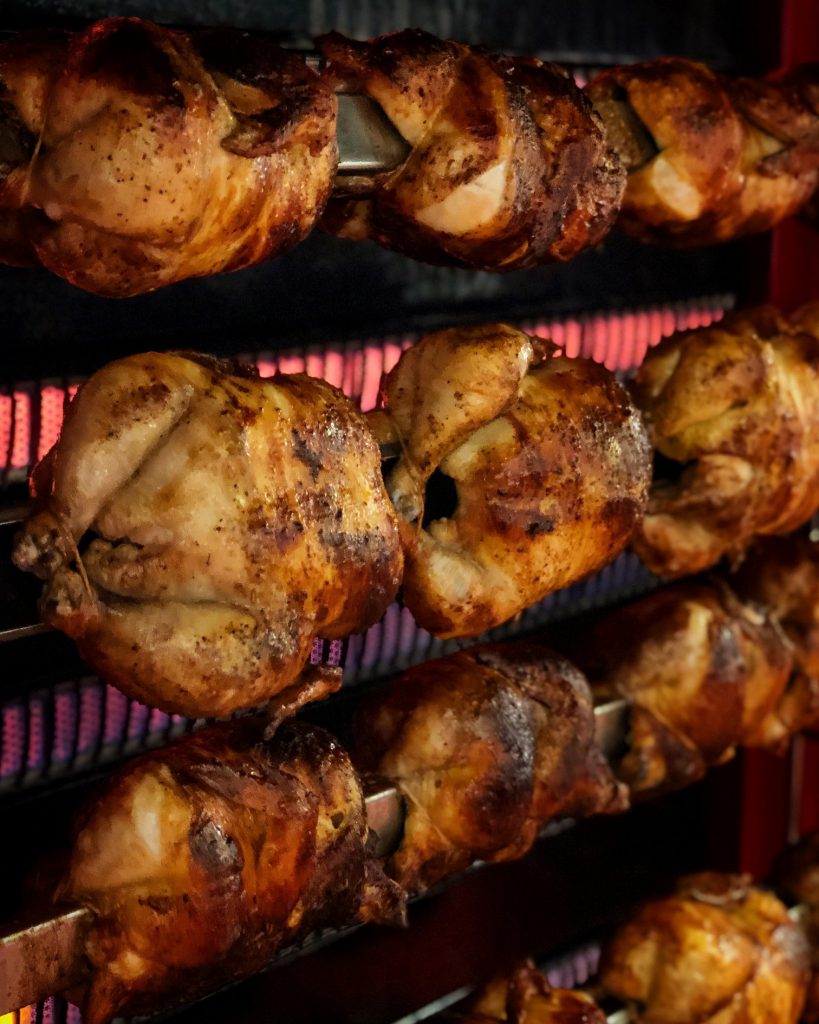 Side Dishes to Complement Rotisserie Chicken
Our Recipe Rack is brimming with recipes for side dishes that will make the perfect accompaniment for National Rotisserie Chicken Day. Why not tempt your guests with some delicious vegetable recipes such as:
You could also keep things simple and healthy with a nutritious salad. Our Cobb Salad takes only ten minutes to prepare and serve, whereas our Shaved Brussels Sprouts with Warm Bacon Balsamic Dressing takes a little more effort but is worth it.
Rotisserie Chicken Leftovers
If you happen to have any leftovers from your rotisserie chicken recipes, you have many options to choose from to make some delightful recipes. Chicken is such a versatile ingredient that can be used in salads, sandwiches, soups, casseroles, and more. Check out our Recipe Rack for the full list of recipes that involve chicken.
Buy Your Ingredients at Caputo's
When planning your National Rotisserie Chicken Day celebration, choose Caputo's for all your ingredients. From ready-flavored rotisserie chickens that only need to be put into the oven to all the ingredients for your side dishes, Caputo's has it all. Fresh, flavorful food is what we're known for, and we can guarantee you will have a great party and your guests will leave happy. Shop online or at one of our Caputo's stores today.
From Our Family To Yours