Spring is here and so is the beginning of many celebrations! If you're looking forward to enjoying all spring has to offer, you might be getting ready for a get together. If you're hosting an Easter celebration, an end of school year party, a get-together to visit with friends and family, or you are always down to try out new items, we've got just the thing for you… a Spring charcuterie board!
Explore some of our new items and create the perfect charcuterie board for everyone to munch on. It can appeal to a whole crowd and it's a fun creative outlet for the one making it. However, cheese can be intimidating! With so many options from all over the world, it's hard to choose what to add. Need some inspo? Here are some items for a perfect Spring Charcuterie Board!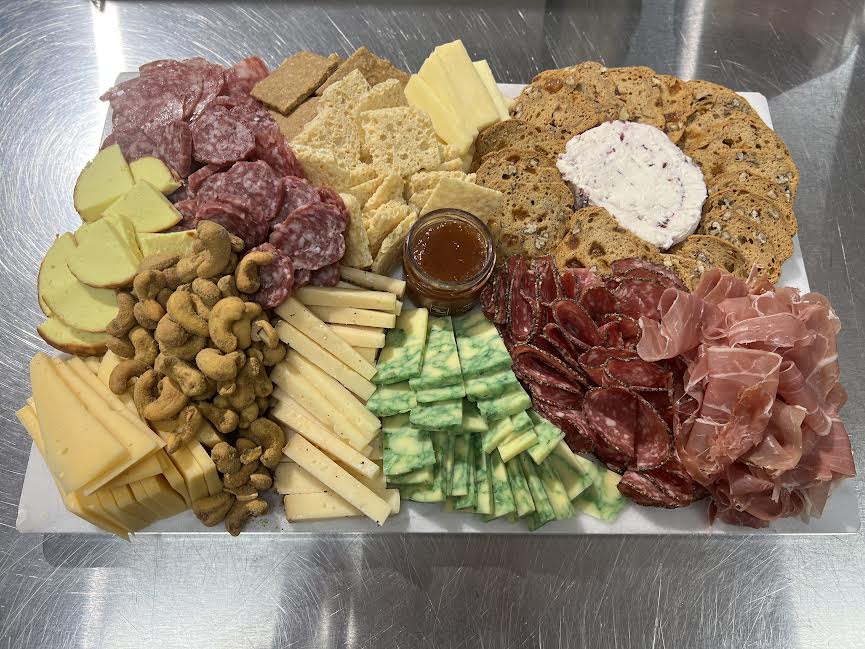 The Cheeses
With every charcuterie board, it's great to keep a balance. We chose a bunch of different cheeses that range from sweet to savory to bold.

*Charcuterie Tip* cut your cheeses thin! When you cut your cheeses thin, you open it up to more oxygen which allows the cheese to breathe and a lot more flavor to come through.

Beehive Cheese with Sea Salt and Honey
This Utah cheese is a gouda style cheese that has honey in the milk which is balanced with a hearty sea salt. It is a simple and creamy cheese with hints of salt in every bite that is balanced with the subtle honey.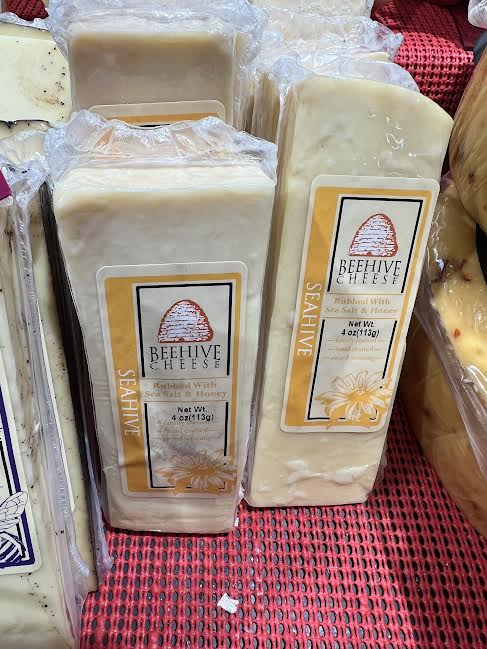 Sage Derby
Derby is a blend of cheeses from England. This blend of cheeses is then infused with fresh sage. The cheese is very light with subtle notes of the herb coming through. It has a beautiful green marbled color because of the sage which makes it taste good and look beautiful on the board!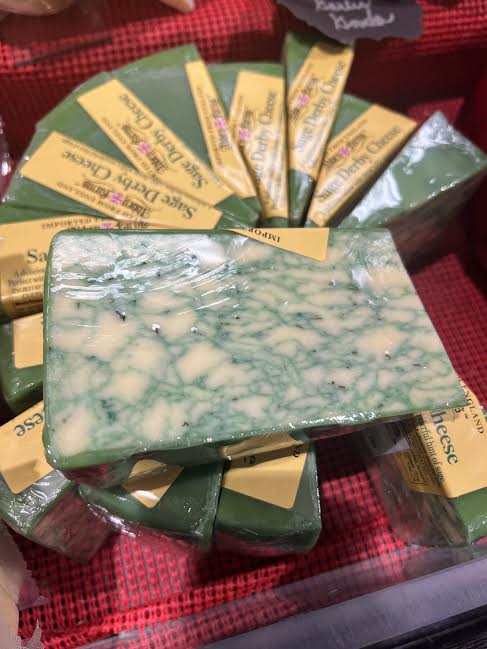 Sweet Swiss
This swiss cheese comes from Fair Oaks Farm in Indiana. It is comparable to a baby swiss, but it is much more creamy, yet full. It has a mild, sweet flavor which makes it great for a balance of the other strong flavors on the board!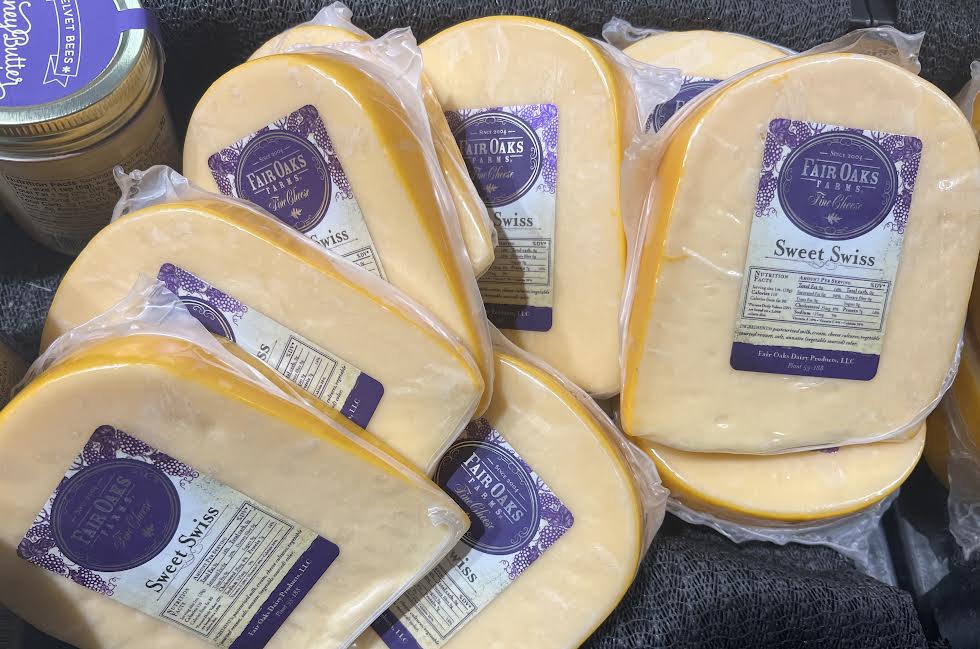 Sartori Black Pepper Bellavitano
A full tasting cheese that dances on every taste bud! The Bellavitano cheese has a rich, nutty flavor. It is then surrounded with a fresh black peppercorn rind which adds a bold, intense flavor. The rind is meant to be eaten which makes the flavor of this cheese really pop!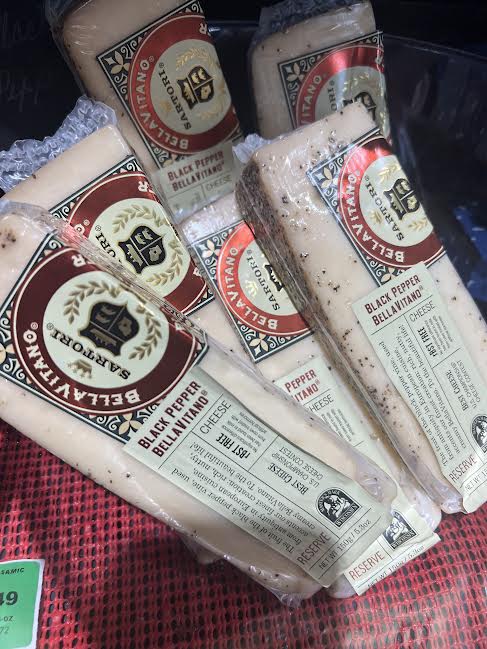 Lemon Baked Ricotta
Imported from Italy, this Isola Lemon Baked Ricotta is like eating a dessert! Incredibly creamy and light, the rich, but delicate taste from the fresh lemon make this a wonderful cheese! The texture is similar to a cheesecake or a pizza di ricotta.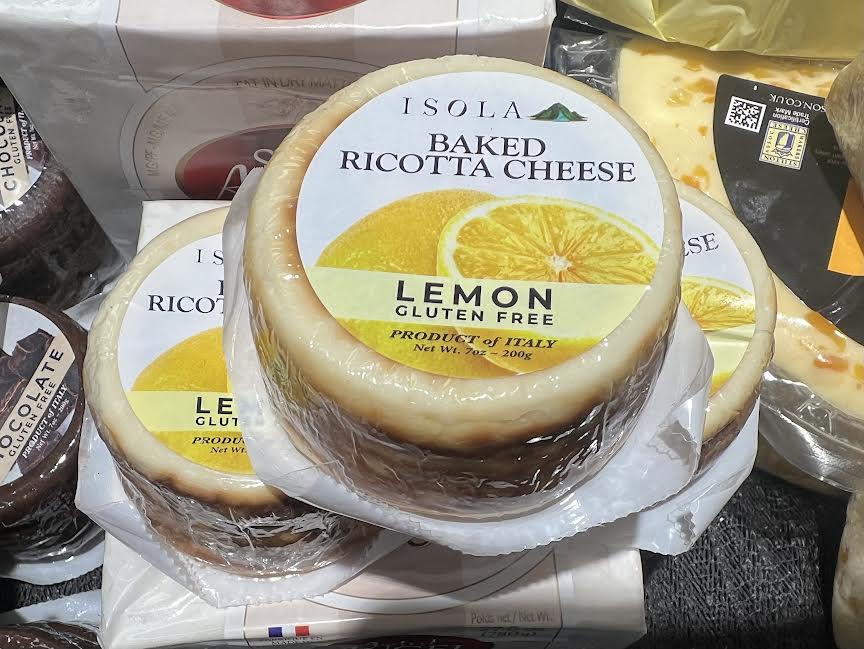 Cranberry Roule
From France, this cheese is similar to cream cheese and very spreadable! Smooth and creamy. there are layers of cranberries incorporated into the cheese itself and the outside is rolled in fresh cranberries. Subtly sweet, this is great with a simple cracker. The little pops of red add a great color to the board.
The Meats
With considering wanting balance and flavor on the board, we chose 4 different meats that do just that!
Busetto Salami Nuggets with Fennel
The dry salami with aromatic fennel and a lighted flavor to this classic salami. Already cut, it's an easy addition to any board!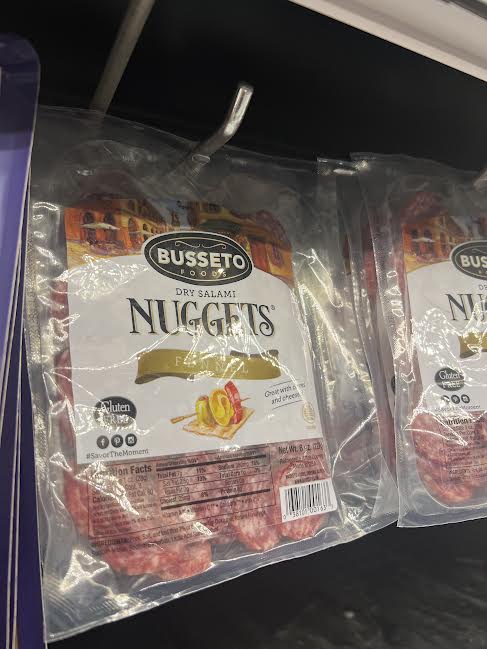 Fiorucci Sopressata
Similar to salami, but it has a coarser, heavier taste. This sopressata has whole peppercorns delicately seasoned into the meat to give it a refined flavor that acts as a great accompaniment to the other items on the board!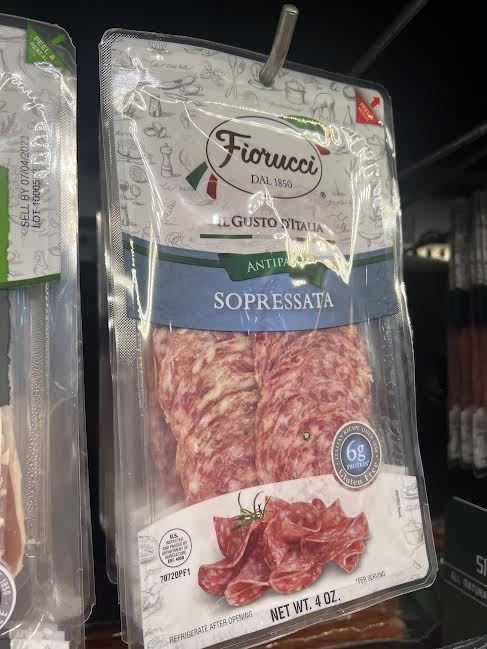 Veroni Black Peppered Salami
This simple salami is seasoned with fresh pepper seeds around the sides. Pre-sliced, you get a bold, intense meat compared to the otherwise mild ones.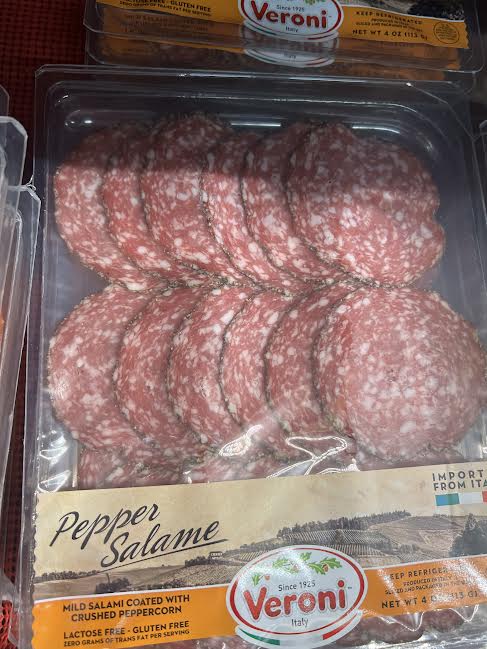 Prosciutto
A true classic! Cut thin, this is a nice, simple addition to any board!

The Crackers and Nuts
Effie's Oat Cakes
This is a sweet, cookie like tea biscuit. They are very buttery with light hints of salt. This biscuit serves as a great element of sweet crunch to a board that has a lot of salty flavors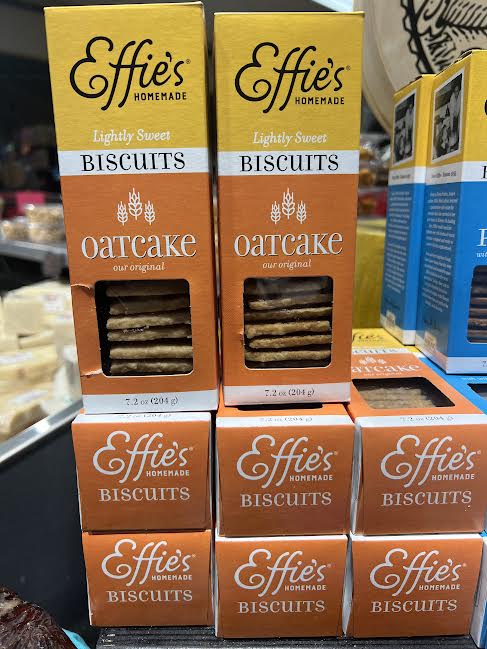 Sonoma Parmesan Crisps
For a savory snack, we used these baked parmesan cheese crisps. A good crunch, this crisp is light, airy, and delicious!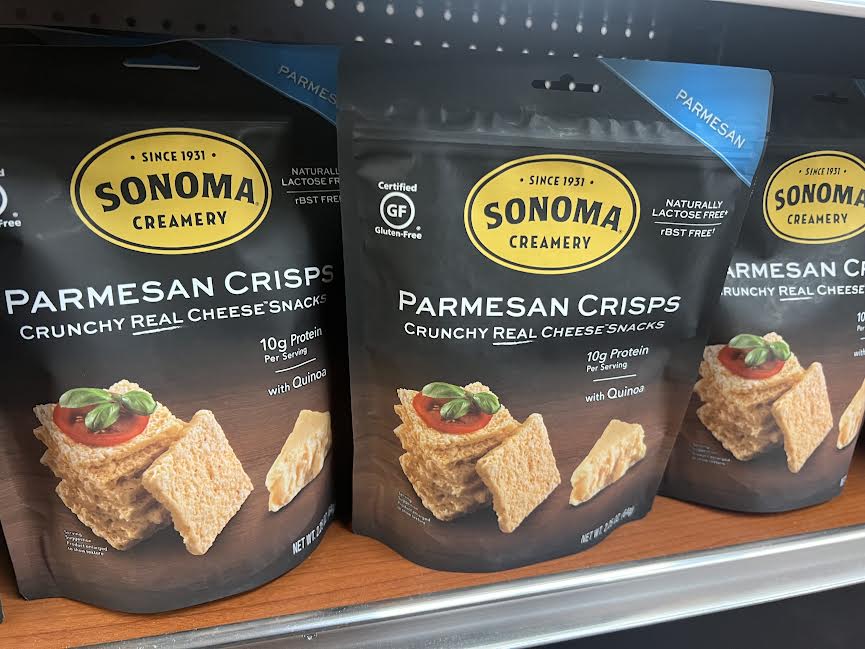 Rain Coast Peach and Pecan Crackers
This crisp has a combination of fruity, nutty, and warmth! The peaches, pecans, and warm spices blend together for a delicious cracker!
B's Gourmet Nuts Insatiable Cashews
These cashews are heavily seasoned with a rosemary based seasoning and finished with spices that bring a little bit of heat and intensity at the end. These nuts are small batch and handcrafted locally. Another cool thing about this brand is that a portion of the proceeds goes to the Cancer Wellness Institute which supports the patient battling cancer and the caregiver.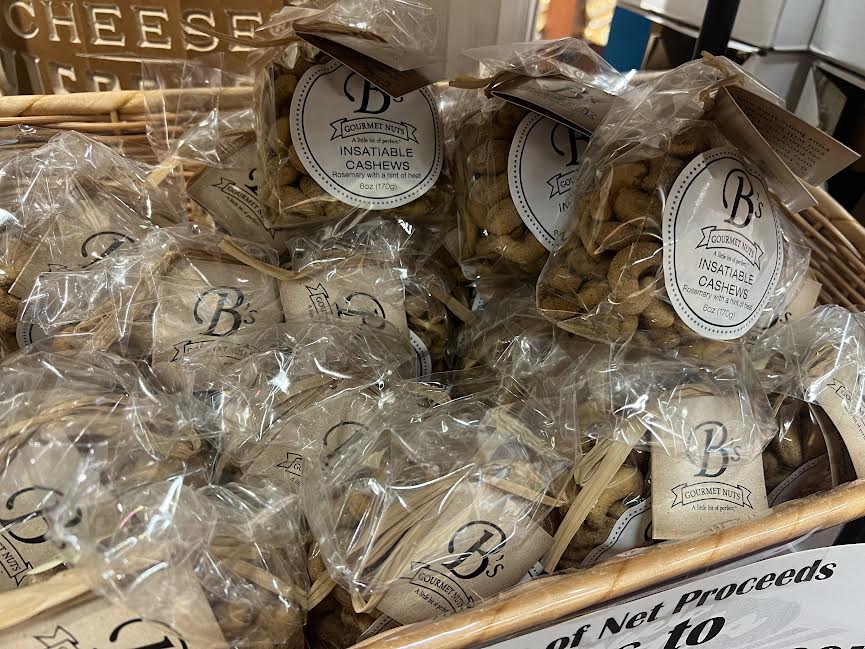 The Jam
Quince with Madagascar Bourbon Vanilla
This jam is created with quince fruit. Quince has it's own unique flavor which is very sweet, some describe it as a cross between an apple and a pear. The naturally sweet, fruity flavor is then mixed with the vanilla to give it a delightful flavor! Because of how sweet this is, it pairs great with saltier cheeses (like the Beehive cheese on this board) to mild out the flavors!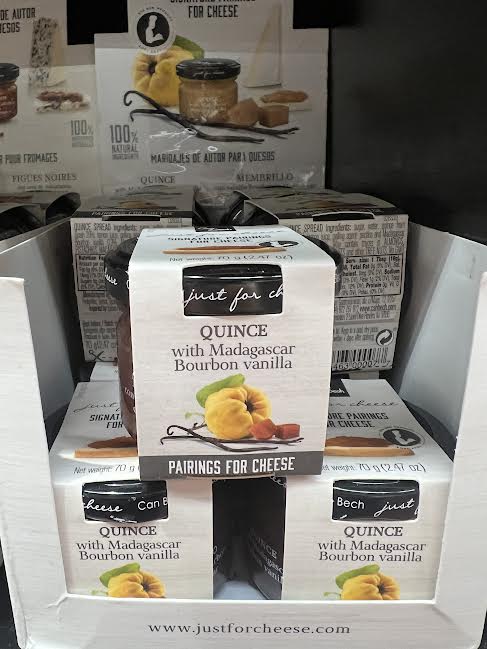 These are just a few of the items we carry in store! We have a wide variety of cheeses and items from all over the world that pair wonderfully together to make a great charcuterie board!
From Our Family To Yours