On June 20, 1991, we opened our second store ever in Addison, IL. We have moved and grown, but we have created many memories and are proud to have served the Addison community through these last 30 years. We want to celebrate this huge milestone and to do so, we are throwing a month-long party!
We will have tons of events throughout the month of June. Pig roasts, food truck events, car shows, in-store demos, live music, coupons, giveaways and more!
On June 19th and 20th, Pit Master Jack will be in Addison with some great barbecue! On June 26th and 27th, we will have live music and a pig roast! Tons more events will be announced throughout the month, so make sure you are following us on social media and check our website for the updates!

As a thank you to our customers, we are also doing 30 Days of Giveaways! Each day in the month of June, we will be giving away a prize. The winners will be randomly drawn daily.

Want to enter? Here's how:

Head to Caputo's in Addison to do your grocery shopping, grab a bite to eat, or a drink. Each time you make a purchase at our store, you will be given a raffle ticket. Fill out the raffle ticket and drop it in the box by the exit. We will draw a winner every day and that person will win a special prize! See the calendar below for a full schedule of the prizes.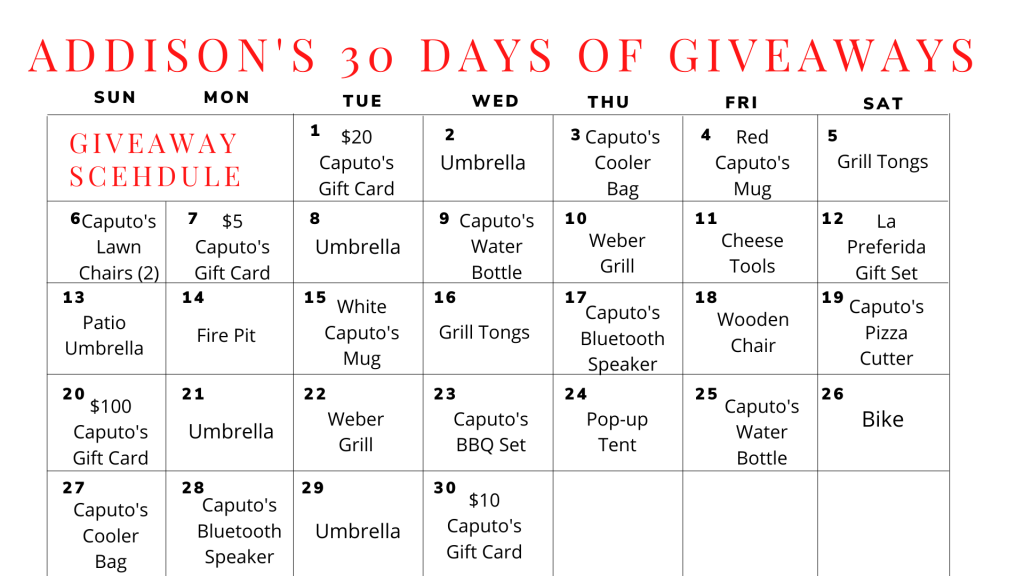 We will have various ways to gain extra entries throughout the month. You can begin entering on May 26th and the last day to enter will be June 29th.

Follow us on social media and check our website for updates.
We look forward to continuing to serve the Addison community and surrounding neighbors!
From Our Family To Yours