We know this time of year may be stressful. Getting tons of presents, doing plenty of Christmas activities, and now it's about that time to start thinking about meal prep for what may be the biggest holiday of the year. Sharing a meal on Christmas Eve and Christmas is sure to help you make some happy memories. At Caputo's, we want you to have a hassle free holiday, so we will do the work for you! Our Homemade Holiday Feast is perfect for the holiday season and will allow you to spend quality time with the family! This homemade feast features a main entree, multiple side dishes, condiments, and dessert!
We offer a full feast that will make your holidays much easier! Our homemade feast feeds 10-12 people and is made with all natural foods and no preservatives. You get a completely homemade meal, but without all the work! This meal will help to create some core memories for your family that you will be able to enjoy because you're not stuck in the kitchen prepping. For the main entrée, there is a choice between an oven roasted turkey that comes with our homemade gravy or an oven baked ham that comes with our signature pineapple apricot glaze. Both items are holiday classics so you can't go wrong with either one of them!
You will get sides–vegetables, potatoes, a salad, and dinner rolls. There are different options to pick from to make your dinner perfect for your guests. To go along with your meal are condiments– you will get two cans of either jelly or cranberry sauce.
Can't forget dessert! The feast comes with a fresh 8" La Bella Romana apple or pumpkin pie!
The feast is available hot for Christmas Eve or you can request it cold and warm it up to enjoy on Christmas Day!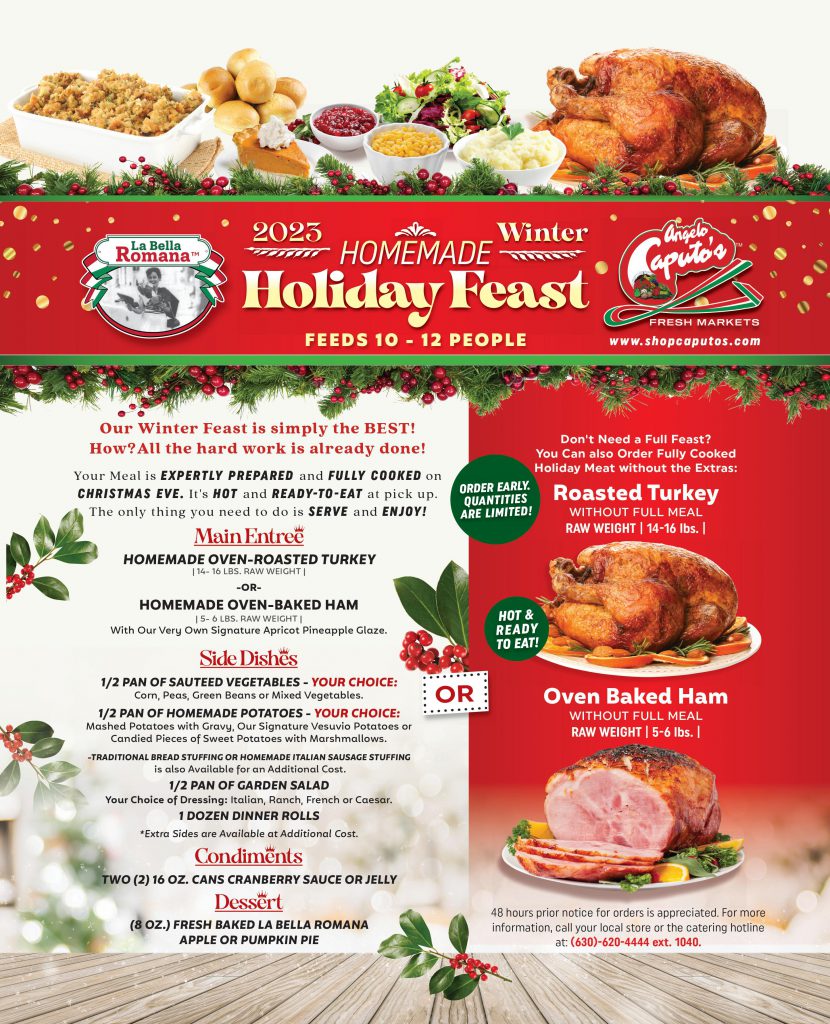 Ordering is simple! You can call (630) 620-4444 ext 1040 or simply place your order online here and your feast is taken care of in a matter of minutes!
From Our Family To Yours