If you've visited the fresh produce department at any of Angelo Caputo's Fresh Markets lately, you may have seen this extremely large, bumpy, green-yellowish fruit on display and wondered what it was. Jackfruit is the largest tree-borne fruit in the world. Jackfruit is relative of the mulberry, fig, and breadfruit. One mature jackfruit tree can bear 100 or more fruits in a year and each fruit can be 8 inches to 3 feet long and 6 to 20 inches wide, ranging in weight from 10 pounds to over 100 pounds.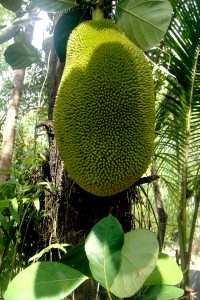 The rind of a jackfruit is pale brown or green and covered with many little cone-like spikes. The inside contains edible bulbs that range from savory to sweet, depending on ripeness. Immature jackfruit is sometimes used as a meat substitute because its texture is somewhat like that of pulled pork. Being a fruit, however, it is high in carbohydrates and does not contain much protein.
By comparison, ripe jackfruit is sweet and bears an aroma similar to pineapple or banana. The sweet, yellow bulbs can be eaten as is or used in desserts, smoothies and more.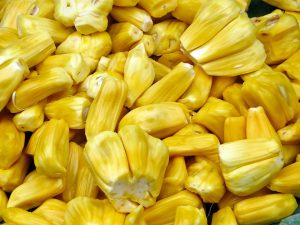 The seeds inside the bulbs are to be removed and can then be steamed or roasted. Raw seeds are not digestible due to the presence of a powerful trypsin inhibitor, which is broken down through cooking.
The inside of a jackfruit contains a gummy latex that will stick to your hands, utensils, and just about anything else. Rub your hands and knife blade with salad oil before cutting into the rind. If you opt to wear gloves, oil them as well or else they will stick and likely rip and tear.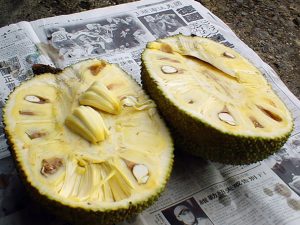 When digging out the edible bulbs, with well-oiled gloves or hands, go fo the healthy yellow bulbs. Avoid any areas that may have gone beyond ripe. They will be pinkish brown in color and the smell will be off, too. If working indoors, once you have harvested the bulbs and seeds, discard all the remains and remove them from the kitchen, as they will deteriorate quickly.
Nutritionally, jackfruit is a good source of antioxidants and fiber and is rich in vitamin A, vitamin C, magnesium, and vitamin B6. Not surprisingly, jackfruit has been used in eastern medicine for years.
The following video, published by Wendi Phan on YouTube, provides a visual demonstration of how to open and eat a jackfruit.