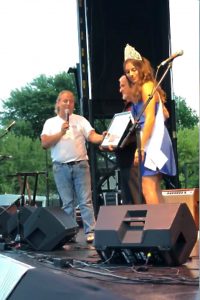 Local entrepreneur and promoter Ron Onesti took some time out of his often-manic schedule last Saturday to recognize our own Angelo Caputo at Onesti's Little Italy Fest-West in Addison, a four-day festival devoted to Chicagoland's Italian-American culture and heritage. After bringing Angelo and his family up on stage, Ron presented the festival's first-ever Neighborhood Pioneer Award in recognition of Angelo Caputo's Fresh Markets' 60th year in business.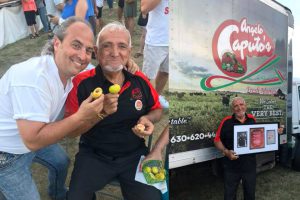 "When you define family business, this is definitely the epitome of family business," Onesti proclaimed to the crowd gathered around the entertainment stage. "You walk into corporate headquarters, you're greeted by granddaughters and grandsons, sons-in-law and it's just a great family thing. It's the essence of being Italian." An assistant brought out the award, which Ron then presented to Angelo and his family amid cheers from the audience.
Ron Onesti has a long record as a staunch supporter of keeping the Italian-American culture strong.  Born on Taylor Street in Chicago's Little Italy, he has spent many years supporting and representing numerous Italian-American causes and organizations. Through his company,  Onesti Entertainment Corporation, Ron has personally established multiple Italian-American festivals across the Chicago area.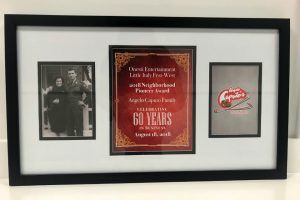 When asked about the significance of this award, Ron responded, "This award has been established to recognize an individual who has come "from the neighborhood", and that could be any neighborhood, and has risen to become a significant part of the economic fabric of the community. It is someone who has lived the American dream and has given back a hundredfold. The Angelo Caputo family epitomizes the very essence of what this award stands for."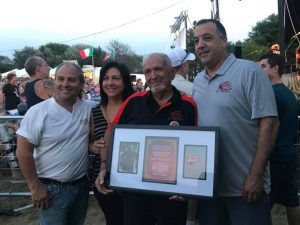 The award is now on display at Caputo's corporate headquarters, where a number of Angelo's family members work, just as Ron had described Saturday. Since Angelo's retirement from full-time work, his daughter Antonella and son-in-law Robertino oversee the company, assisted by their sons and daughters in various capacities. As large as it has grown, Angelo Caputo's Fresh Markets very much continues to be a family business and we, along with many others, gladly do not see that changing anytime soon.
The Angelo Caputo Family is grateful to Ron Onesti and his organization for this very special gesture of recognition.