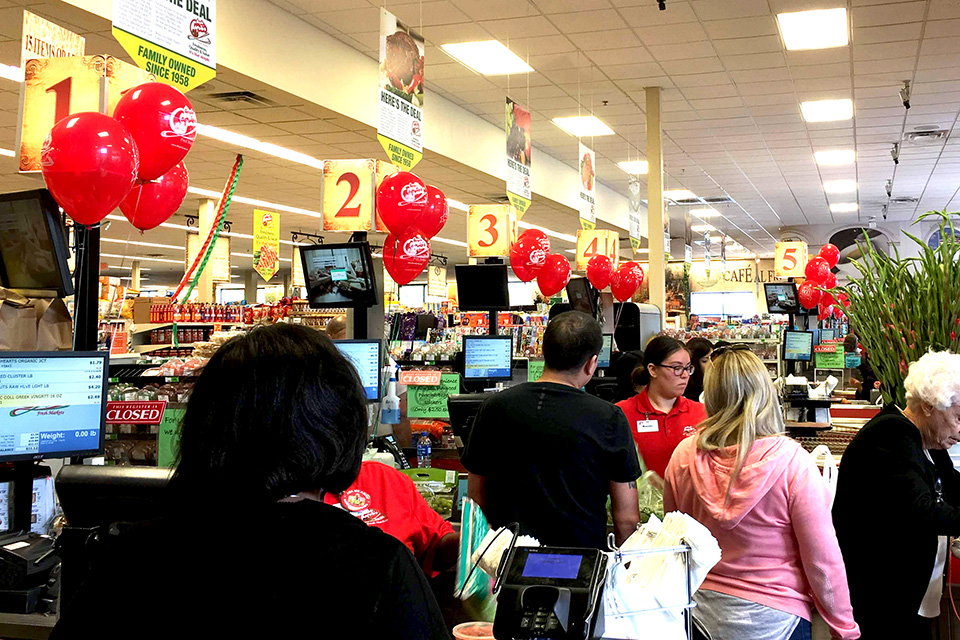 The year-long 60th anniversary celebration continues at Angelo Caputo's Fresh Markets. "The Angelo Caputo Family has been in business for 60 years," said Giancarlo Presta, grandson of Angelo Caputo and General Manager of the company. "We wanted to show our appreciation to the people who made that possible, our customers, and have a little fun while doing it—not just for one day but throughout the year."
And that's exactly what we've done. During the summer months, Caputo's hosted a series of all-you-can-eat Parking Lot Picnics featuring grilled burgers, hot dogs, and our famous Italian sausage, plus sides, drinks, and desserts. Now, as summer gives way to fall, each of our seven locations is hosting Check Out Caputo's, an in-store game where the winning customers walk out with prizes in addition to their groceries.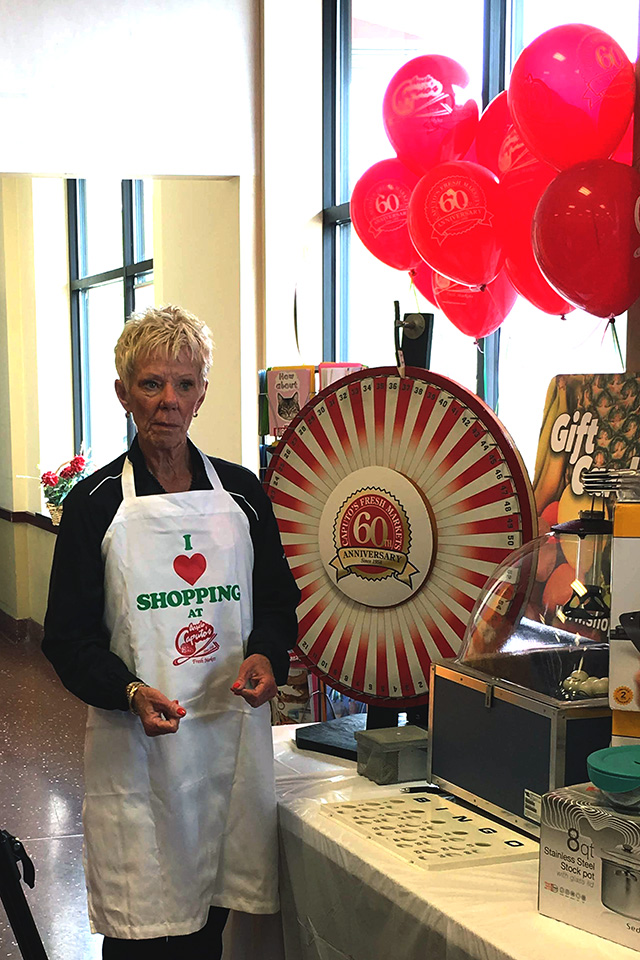 Here's how it works: Each store location will host Check Out Caputo's for one day from 11:00 AM until 3:00 PM. On the day of the event, our prize team will be set up at the front of the store with a bingo ball machine, a prize wheel and a table filled with prizes. Every 15 minutes, the prize team will be drawing a numbered ball to determine the "winning" checkout lane. All customers in the "winning" lane will be given a card that allows them to play the game over at the prize station after they finish checking out. Each card holder will receive a $5 Caputo's gift card and be allowed to spin the wheel for a chance to win some great prizes.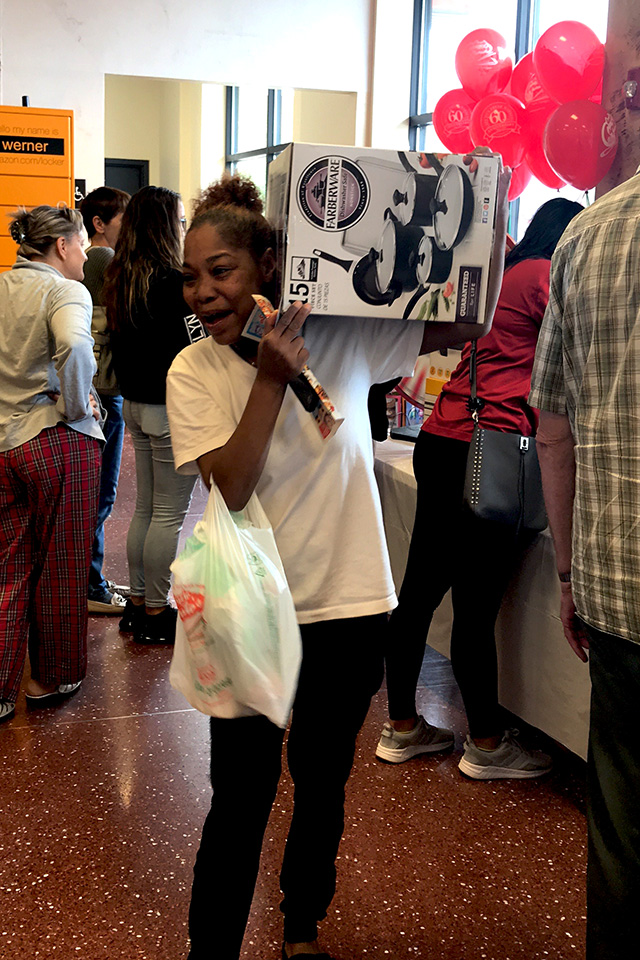 The first game event was held on Saturday, September 8 at our Elmwood Park market.  Greeters were handing out complimentary shopping list pads to all customers as they entered the store. Winning customers were allowed to select their own prizes, which ranged from gadgets to small appliances. There were many smiles and even a few squeals of delight as the game continued. Several members of the Angelo Caputo family were on hand to greet the winners and personally thank them for being customers.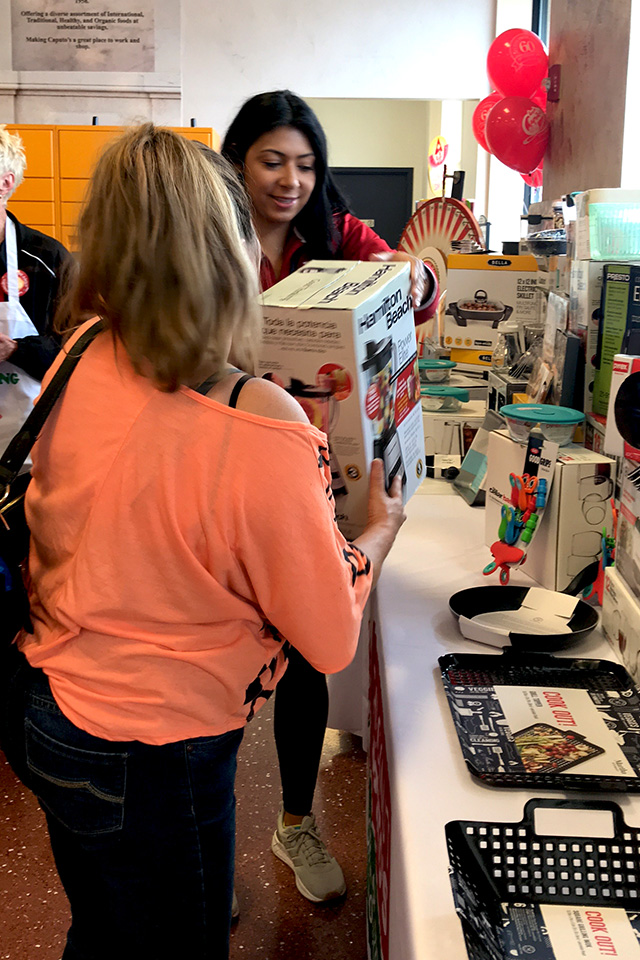 Occasionally an individual would walk up to the prize station and ask what they needed to do in order to play. Nobody knows in advance which lane number will be pulled, so winning is simply a matter of shopping at Caputo's while the game is being played and being in the right place at the right time.
The Check Out Caputo's game will be hosted for one day at each of the remaining store locations during the months of September and October. Here is the current schedule. We hope to see you there!
Hanover Park – September 15, 11 AM to 3 PM
Carol Stream – September 22, 11 AM to 3 PM
Bloomingdale – September 29, 11 AM to 3 PM
South Elgin – October 6, 11 AM to 3 PM
Naperville – October 20, 11 AM to 3 PM
Addison – October 27, 11 AM to 3 PM