Now more than ever there is an increasing awareness on sustainability and protecting the environment. On April 22, we celebrate Earth Day. Earth day is about planning a better future for the environment. It is about talking steps now to help tomorrow. At Caputo's sustainability is a big part of who we are. We have taken many steps to make sure our practices are good for the environment.
One action we have taken is our lighting. We utilize LED lights in our interior and exterior. LED consumes up to 90% less power, has a longer life, is non toxic, is recyclable, and reduces carbon footprint by a third.
We also us CO2 transcritical systems for our refrigeration. Most refrigerators use freon, which kills the ozone layer and leaks very easily. Our CO2 systems are better for pipelines, non-corrosive, and less likely to leak. CO2 is a huge reduction in our carbon footprint. Our systems are equivalent to recycling 22,229,997 pounds of waste, saving 7,337,324,035 gallons of gas over ten years, and planting 1,657,274,782 trees over ten years!
Another initiative we take is in our recycling. We know that cardboard can pile up in your house. Whether you order things or have boxes laying around, cardboard collects and the proper way to dispose of it is to recycle it. We offer bins in front of our stores where you can drop off your cardboard whenever you want and we will take care of recycling it for you! All you have to do is put your cardboard in the bin and we will properly recycle it! By recycling cardboard, we conserve valuable resources and reduce pollution from production of new materials.
We also have reusable cups. Our 28oz double walled tumblers feature a plastic straw and are suitable for hot or cold drinks. Reusable cups are good because they reduce waste. The number of cups that get thrown out each day is very high, reusable cups keep that number low. Another positive is that they are less likely to spill because the lids are secured and our tumblers are only $7.99!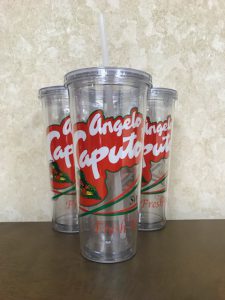 In addition, we have reusable bags! Reusable bags are better than plastic bags for many reasons. Plastic bags don't biodegrade and they are harder for the environment to break down– it can take anywhere from 15 to 1,000 years to break down. Because they are lightweight, they are more likely to fly away and turn into littler. This litter can be harmful to animals. Reusable bags are also more durable. They can hold more and they last longer. The average reusable bag has a lifespan equal to that of more than 700 disposable plastic bags. By purchasing and using a reusable bag, we have the power to eliminate a lot of waste and potential dangers to the environment.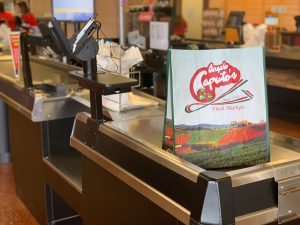 Earth Day is a day to raise awareness about initiatives to help the environment in order to create a better future for the next generations. We hope you will join us in taking action and steps to protect our home.
From Our Family To Yours