The feast of St. Joseph is right around the corner– March 19th is the day dedicated to St. Joseph! To celebrate, many people are known to feast together. Some people attend parties where friends and family come together to honor St. Joseph or San Giuseppe. You will probably notice many St. Joseph's Day tables in your communities around this time as a tribute to him. The traditions vary, but most celebrations include a lot of food and– of course– Zeppole!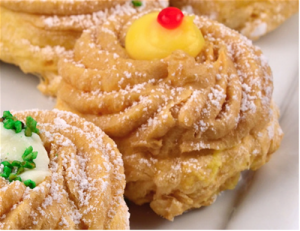 Italians usually celebrate St. Joseph's Day with a big feast. The tradition of the feast dates back to the middle ages. Sicily was in the middle of a big drought. This drought was causing crops to dry up and left sicilians on the brink of famine. They prayed to St. Joseph to relieve them with rain and in return they would honor him with a real feast or a banquet. When the rain came a few days later, they honored him as they said he would.
The feast can include a wide variety of items or, according to Angelo, "a little bit of everything." Some traditions include a main dish of Mafaldine di San Giuseppe. Mafaldine is a pasta cut with curly edges, almost resembling a ribbon. This pasta dish includes bread crumbs and anchovies. The breadcrumbs are believed to signify sawdust as a nod to St. Joseph for being a carpenter!
For dessert, zeppole! Zeppole are traditional donut like fritters that are coiled on top. They are stuffed with different fillings and topped with a dusting of powdered sugar. This is fitting because St. Joseph also happens to be the patron saint of pastry chefs! There are many different types of zeppole. Traditional zeppole are filled with cannoli or french cream. We have recently expanded the types of zeppole we have. We have created different versions of these delicious treats, some filled with chocolate, some filled nutella, and more! All of our bakery items are made from scratch with no preservatives! Stop by and pick up your zeppole and try out our new flavors to celebrate St. Joseph's Day!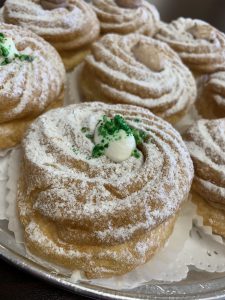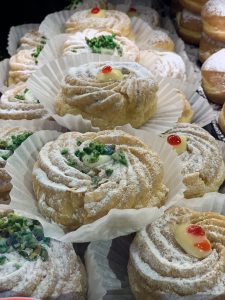 What are your go-to meals or traditions on St. Joseph's day? Share them down below!
From Our Family To Yours