The weather is warmer, basketball is always on TV, and bracket season has begun! We are always down for a little friendly competition, so we have developed a bracket of our own. Our first annual Caputo's Faves Madness competition puts some of our signature and favorite items head to head and asks the real hard hitting questions, like eclairs or cannoli. Submit your brackets for a chance to win a Caputo's gift card and apron!
It is very simple to enter. The first thing to do is fill out the bracket.  Brackets are very easy to fill out, all you have to do is look at the 2 items being matched up. You select which one you like better and move that onto the next round. For example, in the cannoli vs eclairs competition, I chose cannoli so I moved it to the next round. Then in the lobster tails vs cream puffs, I chose lobster tails and so that advanced. Now, I am forced to choose between cannoli and lobster tails (a very hard decision).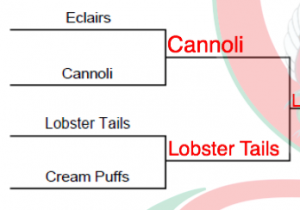 You continue to do that for every pair until you pick a winner.  You have a few different options for the way you choose to fill out your bracket. You can save the bracket as a PDF and fill it out on your computer or just type right on the bracket page. You can also screenshot it and fill it in with photo editing tools. Another way to fill it out is to print it out and fill it in by hand, then email it to us or turn it in at the service desk of your local store.
To figure out who the winners are, we are leaving it up to you! Every item in the competition is completely fan voted. Throughout the next weeks, we will feature the polls on various social media sites. Make sure you are following us on Facebook, Instagram, and Twitter so you can cast your votes. The votes will be tallied and the winning items will be posted. The championship round will be on April 8th!
What happens if you win? You get a Caputo's gift card and a Caputo's apron! So fill out your bracket and join the madness!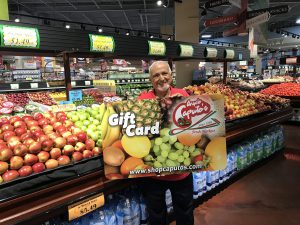 Check out the official rules and scoring and get the bracket here!
From Our Family To Yours