Angelo Caputo's Fresh Markets is known for many unique specialities. Our various departments and items can take you on a trip around the world just by roaming our aisles. If you are looking to take be transported to Italy, take a look at our meat department. Our homemade sausage is full of flavors and aromas that will make your home taste like Italy!
Our sausage is made in-house daily. The process starts with our old-world tradition of using hand-trimmed lean pork. We mix the pork with our private blend of spices and seasonings, developed specifically for our sausage.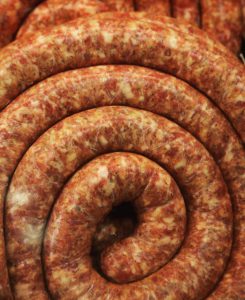 Our recipes for our various sausages have been perfected throughout the years. Our different types have different spices or cheeses that make it different from any sausage you have ever tasted. We have devoted time and resources to perfecting our sausage recipes and you can taste it in the end product.'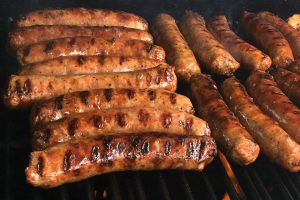 The flavors and taste you enjoy from the first bite into our Italian sausage is unmatched and you cannot find anything like it. If you have not tried our sausage yet, what are you waiting for?! The only regret you'll have after tasting it is the fact that you have not been enjoying it sooner!
From Our Family To Yours