We live life in a hurry. We are always running out the door or from one place to the next. In our hectic lives, food can get put on the back burner, especially lunch. In the middle of a busy day, it is easy to get caught up and not have time to eat or you need something quick. This often means that you sacrifice nutrients, but not anymore! Our pre-made salads are easy to bring along with you, they are full of nutrients, and delicious!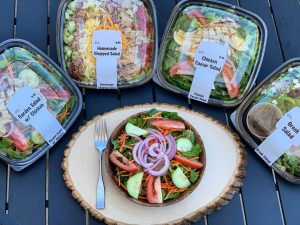 In our prepared foods section, you will find a variety of different salads. Full of different ingredients and flavors, these aren't your typical boring salads. They are vibrant with color and packed with taste. Our wide variety will satisfy any cravings you may have. They are made fresh daily. The dressing comes on the side so you can add as much or as little as you wish, and your lettuce is never soggy! 
One of our favorites is the greek salad. The greek salad has onions, black olives, and feta cheese with a Greek, vinegarette dressing. If you're looking for a salad with a little bit of everything, try the chopped salad! 
The chopped salad is packed with ingredients including egg, cucumber, tomato, chicken, carrots, and more! This has plenty of greens, vegetables, and proteins to make it a complete meal. 
If you want something classic, we offer the essentials like a garden salad or Caesar salad. The options don't stop there! We have a southwest salad, bacon ranch salad, Julienne salad, and more.
Try them out and let us know which is your favorite!
From Our Family To Yours