As a family owned and operated business, we are committed to helping you and your family keep traditions alive and teach younger generations. Whether meals, rituals, stories, amongst other things; we know how important traditions are. Two important Italian traditions are canning tomatoes and making wine!
The tradition of canning tomatoes can date back to the 1700s when people began putting their summer produce in jars as a way to preserve them and stock up for the winter. Since then, canning tomatoes has transformed into a yearly family get together. In late August, we truck in loads of locally grown, vine ripened tomatoes. Vine ripened is a key part of our tomatoes because some tomatoes are picked green and ripened through different processes. Our tomatoes are ripened fully on the vine, then picked. In doing this, they maintain the natural sugars crucial to making delicious sauce. In addition to the tomatoes by the bushel, we also sell jars and tools to aid in making the process easier. You don't want to dirty your clothes, so pick up an "I Love shopping at Caputo's Apron" to make it a clean process too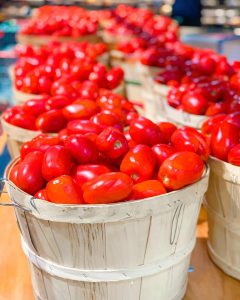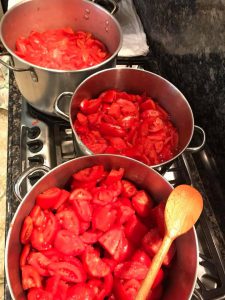 Another important tradition amongst Italian-American families is wine making! The wine making tradition is an involved process that requires hard work and patience. We bring in a wide variety of wine grapes and juice every year for this custom. The juice comes from Italy and the grapes come from a grower in California. The grower has a specific process too when it comes to picking grapes. Our grower made the decision to leave the grapes on the vine to allow the sugar to continue to develop in the fruit. The sugar in the fruit is vital to the alcohol content that will be found in your homemade wine. We have tons of supplies for your wine making get togethers. From corks to bottles to pressers, we have the crucial tools you need to get your wine making process underway. We sell wine grapes out of our warehouse located in Carol Stream and out of our Elmwood Park store. Wine grapes will be available within the next few weeks!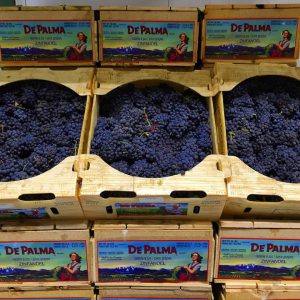 Let us know how Caputo's is involved in your family traditions. Comment down below with some of your family traditions or email us at events@caputomarkets.com with pictures and stories!
From Our Family To Yours