When we left off, Angelo had finished his time in the army and was on the way back to Chicago with his new bride to begin the new life he had dreamed about.
The Story of One Emigrant
Storia di un Emigrante
Part IV: The Beginning of Caputo's
Upon their arrival in Chicago, their life became hectic. They were balancing married life, work, and living in a new place. Angelo and Romana moved into the same apartment building as Angelo's parents, living in the unit right above them. He was always eager to work, so he started working multiple jobs so that he and Romana could begin saving for their future. Angelo, having grown up in a grocery store and on a farm, knew that's where his passion and knowledge was.
In 1958, he started working in a 25' by 120' building at 2560 N Harlem Ave on the corner of Harlem and Wrightwood in Elmwood Park. This small fruit store became Caputo's New Farm Produce. This store became well known amongst the growing Italian community in Chicago because of Angelo's roots in Italy and his customer base expanded. 
  Originally, it was a mostly full service store meaning the customers would tell the clerk what they wanted and it would be picked for them. The store began to steadily grow and it slowly transitioned into a self-service store and the customers loved it. The process was very old-fashioned and simple, much of the calculating done by hand on brown paper bags or the box. The register was a $5 National Register, this means that if a customer bought $30 worth of produce, you'd have to push the buttons 6 times. The customers loved the switch to self service and he drew a bigger clientele. He then bought a $25 register, but all the adding was still being done by hand on those paper bags.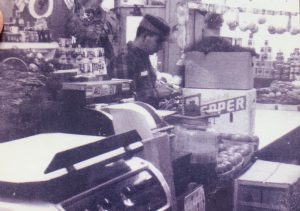 Angelo remembers "working hard and encouraged the whole family work hard." Angelo and Romana were blessed with three kids, the youngest being my mother, Antonella. On weekends, Romana would make sandwiches and bring them to the store for the family and the employees to eat for lunch. His kids got involved, doing whatever needed to be done.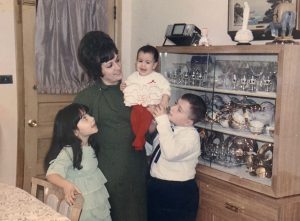 Angelo started his days buying fresh produce. Whether he was driving to local farms, heading to farms in Michigan or Indiana, or going to the South Water Market on the west side of Chicago, he would buy produce that was often picked fresh and sold in the store on the very same day to ensure that his customers were getting the freshest produce for the best prices, a process still alive and well today.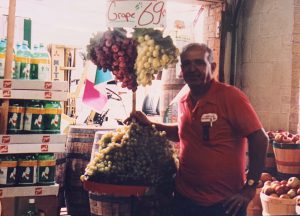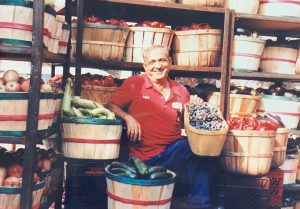 Working conditions weren't the best. It was a lot of physical labor in a store with no heat or air conditioning because the store was somewhat like an open market, and we all know the highs and lows of Chicago weather. Nobody complained though, everyone worked hard in whatever condition they were faced with. 
The store remained busy and parking became an issue. Whenever I meet customers of our original location, parking is always a topic of conversation. Parking was very limited and it was always a challenge. Angelo's goal has always been to satisfy his customers, so he always kept his eye open to find nearby locations that would work for parking.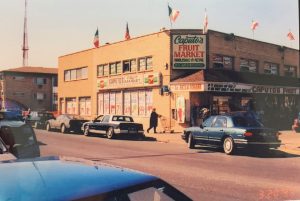 It was around this time that my parents met. My dad, Robertino, began working for my grandfather. He was young, but he was strong and he was a hard worker. Angelo knew he could handle the work after seeing the way he could unload trucks by hand– the way most everything was done at the time.
The store kept growing and eventually became an Italian Specialty store. It was no longer just produce, but a full grocery store. This included the addition of our private label, La Bella Romana, in 1984. The name of the private label translates into the Beautiful Romana as a way to honor his beloved wife.
After years of only being in Elmwood Park, it was time to expand. There were more and more Italians coming to the Chicago suburbs which meant the demand for an Italian Specialty store was growing and Caputo's was the place for that. The second store was opened in 1991 in Addison, then Hanover park in 1996 with more to follow.
Later, Angelo was ready to retire (I'll use the word retire loosely because he still spends most of his days in the stores) and enjoy life with his beautiful wife. The whole family continued working. Eventually, he entrusted the business to my parents, Robertino and Antonella, who have grown Caputo's even more. Angelo considers himself  "very fortunate to have been blessed with a daughter and a son-in-law who learned first hand from me and share the passion of taking care of the family business."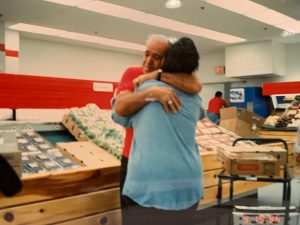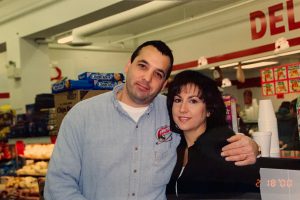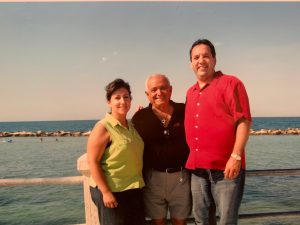 Check back next week to see where we are and who we are today.
From Our Family To Yours