This Sunday is not just any Sunday, it's Father's Day! The day dedicated to appreciating all the father figures in a person's life. It is a day to acknowledge all the valuable lessons, laughs, and guidance they have given over the years. With Father's Day this Sunday, I can't help but think of two very important men in my life and in our company. I would like to take this opportunity to recognize my father, Robertino Presta, and grandfather, Angelo Caputo.
My father started working at Caputo's at a very young age. My grandfather appreciated him because of his strength, especially his ability to throw and catch watermelon when unloading a truck. His efficiency in unloading the trucks as a teenager is a testament to his work ethic. He never hesitates to step in during any task. My father embraces all challenges, coming up with unique and efficient ways to get past them.
He has helped us and the business grow. He has taught us the importance of hard work and dedication, always leading by example. His lessons span from how to properly display produce to how to clean tables the right way.
One of the things I feel most fortunate for is that my father believes in us, sometimes more than we believe in ourselves. He doesn't make us feel like we cannot handle a situation. He helps to give us the tools we need to succeed and guides us towards the path of success. I have learned so much from not only my father, but my grandfather too.
My grandfather and our patriarch, Angelo Caputo, has always been one of my biggest inspirations. He overcame so much and always persevered. When he was just 18 years old, he left his home in Italy and enlisted in the US Army so that he could create a better life for himself and his family. He took risks I could never imagine and I am always in awe of his strength.
He has been faced with so many challenges in his life, but never let that stop him. He never shies away from hard work and faces adversity head on. His passion for work is still apparent from him asking about work to visiting each store to see how things are running. Hard work is in his blood.
He has always taken the time to teach us and work with us. He has passed along important tools and wisdom– things that we can carry with us. From teaching us how to eat a prickly pear or telling us stories from his childhood, he is always there for us. Nothing makes him happier than watching and being a part of the successes of his children, grandchildren, and great-grandchildren.
I am very lucky to have two strong men who believe in me. My father and grandfather are incredible people whose sacrifices and hard work have led to many great achievements. I have the utmost respect for these two men and strive to make them proud.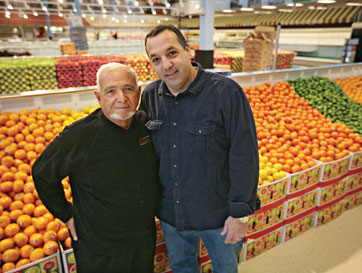 Happy Father's Day to all the fathers and father figures ❤️
From Our Family To Yours