The weather is beautiful, the nights are long, and there is a lot to celebrate. If you're looking for something beautiful and delicious to bring to a get together or to put out for guests, we have just the thing! 
This board features new cheeses, fresh summer produce, unique crackers, and more! This board has what every good charcuterie board needs– a mix of flavors, shapes, textures, and colors! It looks beautiful and tastes delicious.There is something for everyone.
Before we get started, here are a few key things to remember when making a charcuterie board
Placement– When placing your items on the board, do not have anything that rolls in the corners or on the edges. This prevents items from falling off your board
Balance- You want to balance the items on your board. Have a mix sweet and savory, different textures, and different shapes
Color- having little pops of color goes a long way! Choosing a few bright items like green olives or colorful fruits and veggies is an easyway to accomplish this!
Nothing will be perfect, just have fun with it!
Now it's time, here are the items on our summer, farmer's market charcuterie board!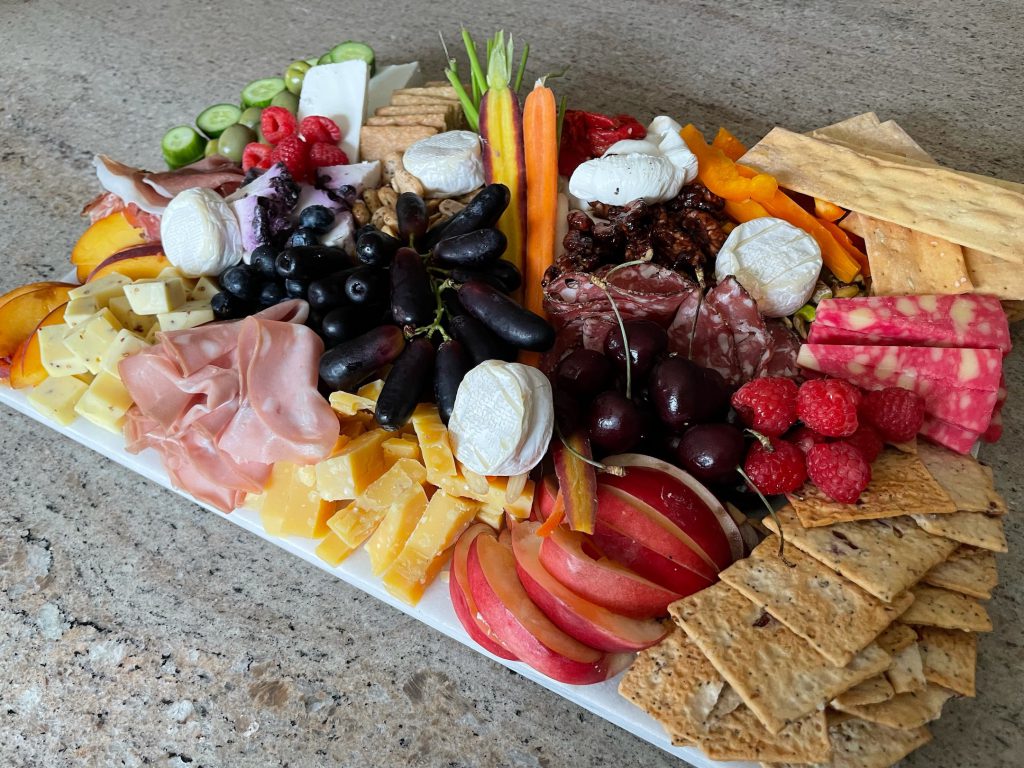 Cheese 
Even if you aren't looking to make a board, we have some fantastic and different new cheeses that you must try!
Windsor Red 
This is a creamy and mild English cheddar. During the making process, port wine and brandy is infused into this cheddar which is where the unique red marbling color comes from. The result is a beautiful looking cheese that is sweet and savory at the same time. You get the sweetness of the wine and the sharpness of the cheddar in every bite. For our board, we cut this cheese into wedges.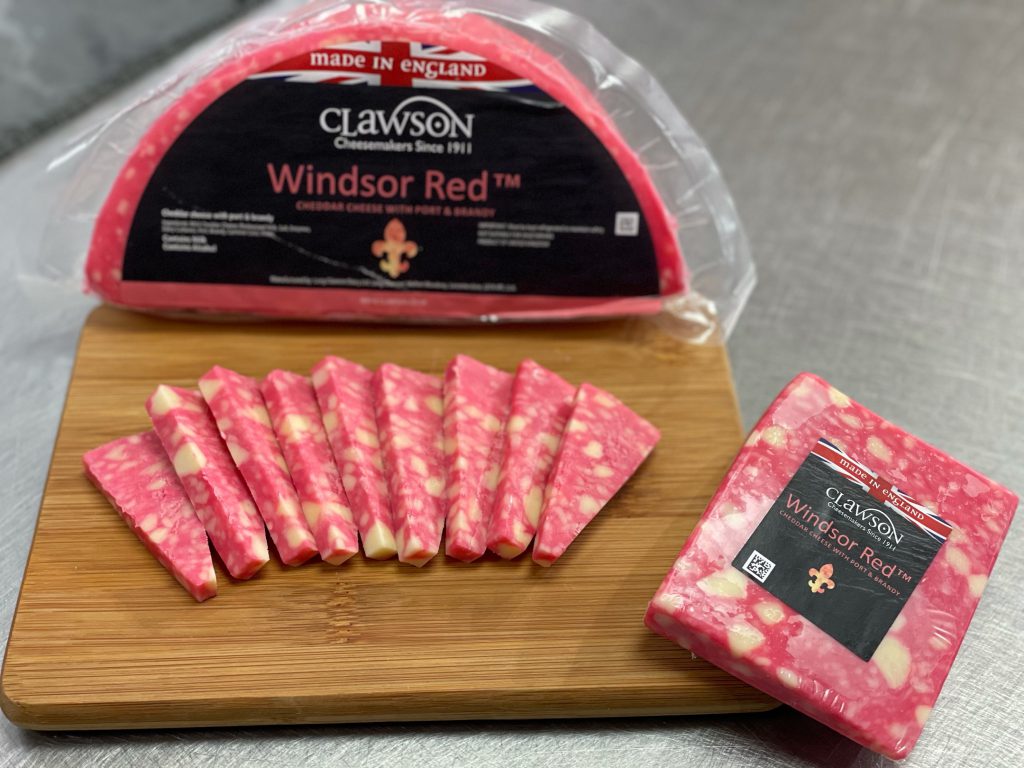 3 year Gouda 
This Vintage Lot Gouda is aged 36 months and from the Netherlands. It has a nutty, caramel, butterscotch taste and a firm bite. The aging allows salt crystals to form which give it a crunchy, yet creamy bite! For the board, we cut the cheese into matchsticks.
Mustard Seed Gouda 
This cheese is a sweet, but savory gouda with mustard seeds in it from Holland. It is a lighter, mild cheese that is extra creamy.
 For the board, we cubed this cheese. 
Wooly Woolly
Wooly Woolly is a fresh sheep's milk cheese that is spreadable and extremely versatile. This is great on crackers, in pasta sauce, with jelly, or even straight up with a spoon! It is fluffy and tastes rich, sweet, and mild. It is very different from any other sheep's milk cheese because of how mild it tastes.

For the board, we cut it in half and added a spoon to the cheese.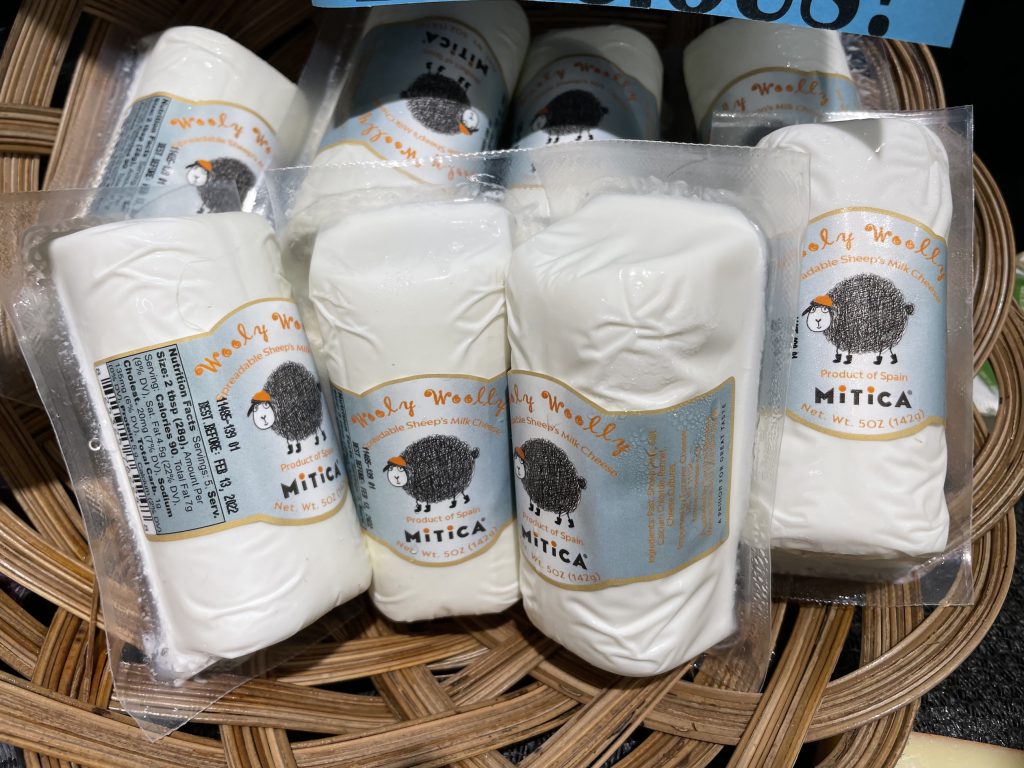 Blueberry Lemon Goat Cheese
Even if you don't like goat cheese, this is a must try! Incredibly creamy with a sweet tang, this goat cheese log is delicious! With a taste almost like a blueberry lemonade, this adds a sweet flavor to the board. This cheese would be good in salads or even as a dessert!

Homemade Bocconcini 
A fan favorite, we also included our homemade bocconcini! Soft and fresh, our homemade bocconcini is unlike any other. This hand stretched and tied mozzarella is a must on any board!

Supreme Brie Bites
Bite size, individual pieces of brie. Each piece is incredibly rich, creamy, and buttery! This cheese comes pre packed, so we took it out of the packaging and added it into spots on our board to add some dimension.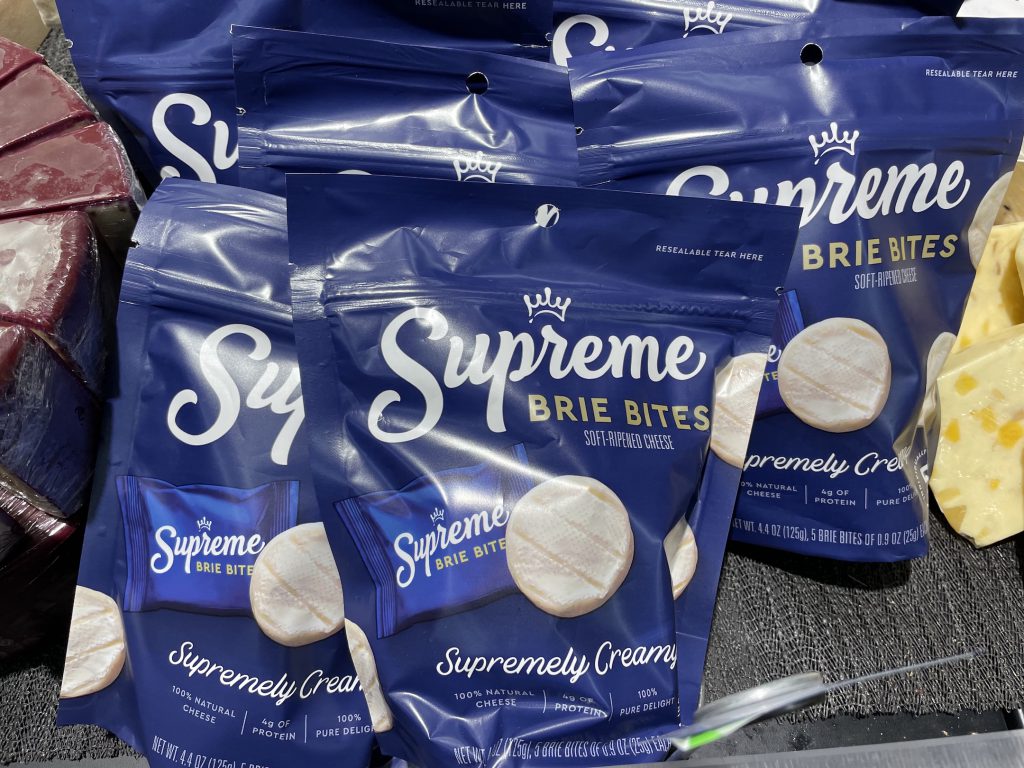 Crackers
We used some new, delicious crackers on this board!
Effies Homemade Oat Biscuits
 New to Caputo's is the Effie's biscuits, In a few different varieties, they are versatile and full of flavor. We used the oat biscuits on our board. They are buttery, great with every cheese. These are truly addicting!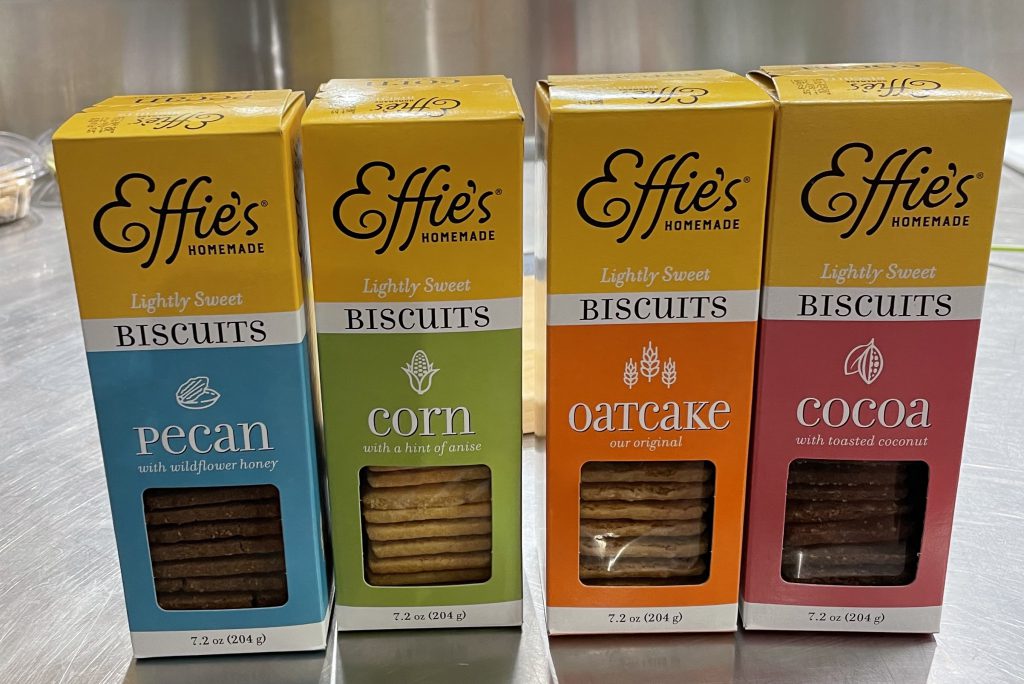 Isola Cranberry and Poppy Seed Flatbread
This cracker has a great texture and flavor. It's not super sweet and a great addition to any board!
Rosemary Sea Salt Mediterranean Baked Crackers
We chose these as a new texture, flavor, and because they are great on a cheese board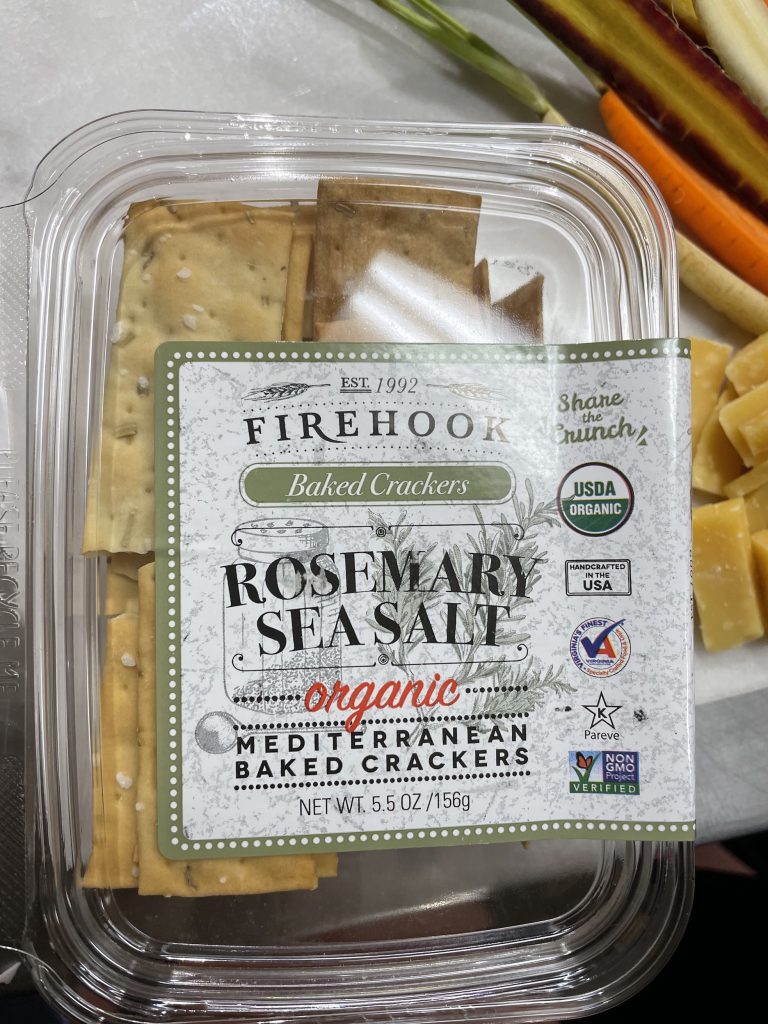 Meats
Peppered Salami
This peppered salami is a great contrast to a board that has a lot of fruit and no spicy cheese. This adds a new flavor and a good look as you can fold it into fun shapes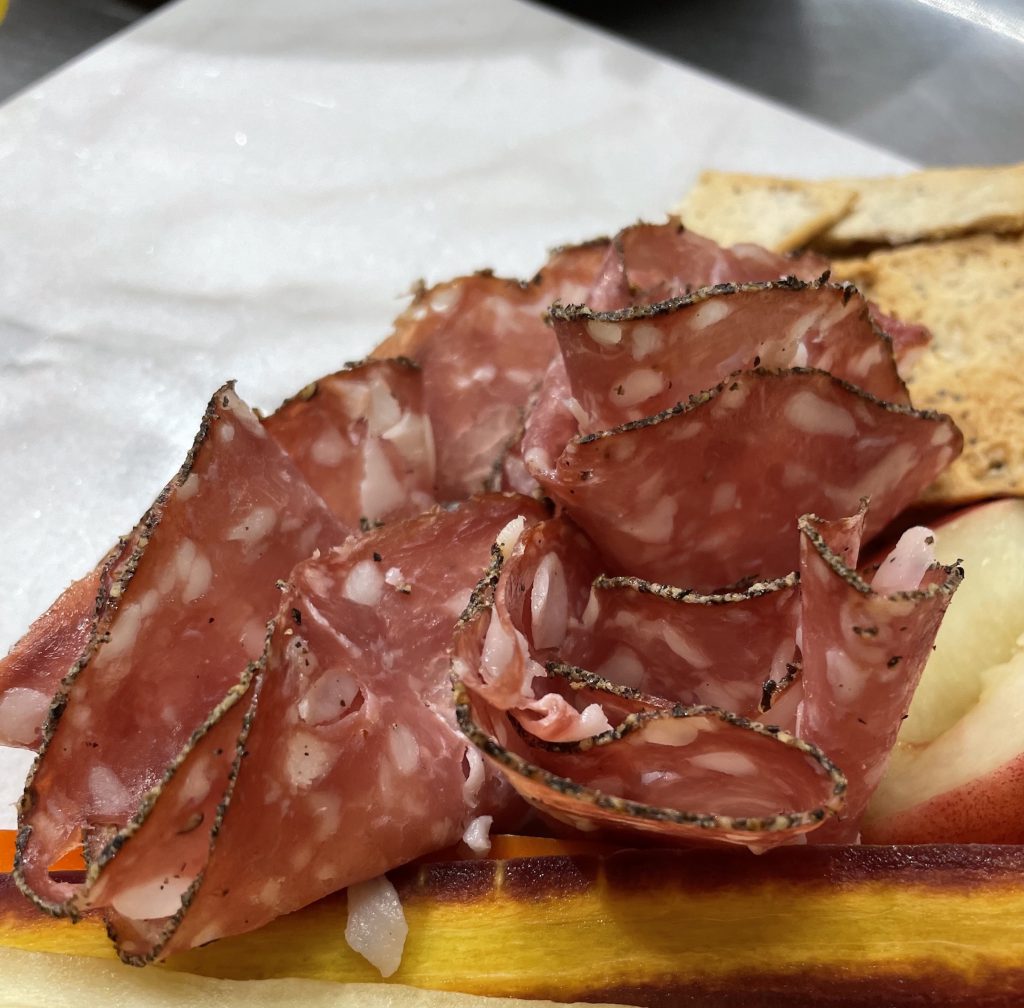 Mortadella
A great and simple meat, we suggest folding it softly into fluffy shapes
Parma Prosciutto
Another classic! We suggest rolling it lightly and on a bias for a full flavor profile
Savory
For a change in flavors, textures, and fun colors, we chose a few savory items to put on the board.

Castelvetrano Olives
These olives imported from Italy are sweet and buttery. They're great for snacking and good with lots of cheese!
Roasted Red Bell Peppers
Available pre-marinated in our deli, these are a new, oily, savory flavor profile! They add color and good to stop items from rolling
Condiments
Little items to pick on that provide different textures and flavors, they are great for snacking between bites!
La Bella Romana unsalted pistachios
Valencia almonds with fine herbs 
Mitica caramelized walnuts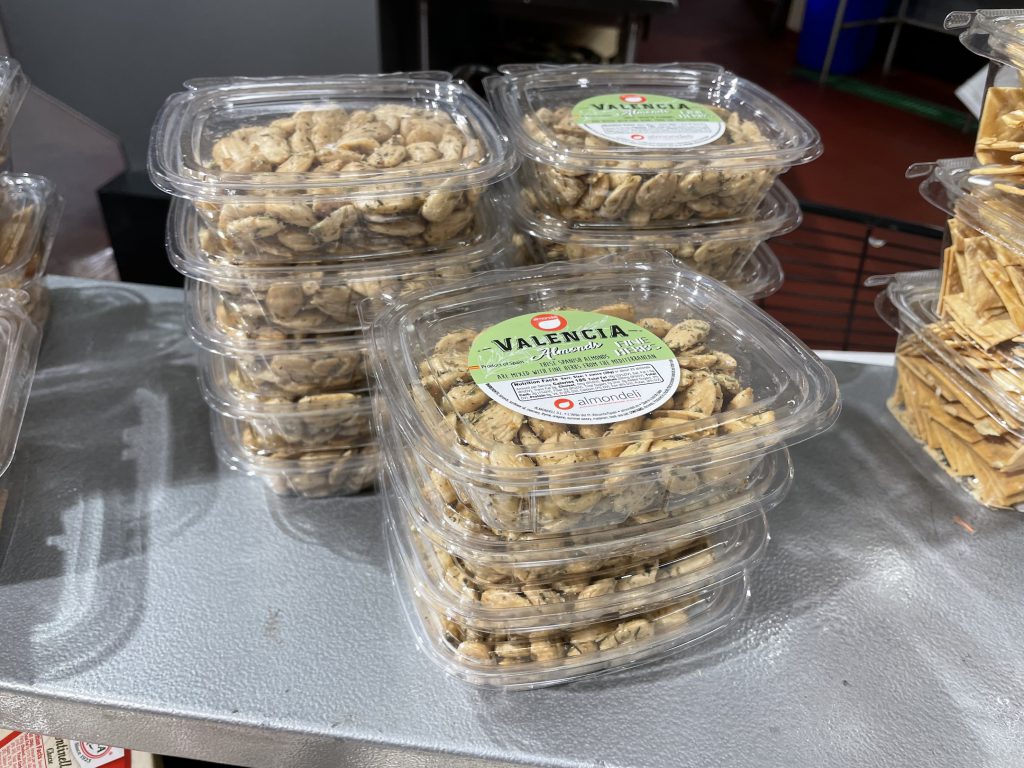 Produce
Summer is a great time for fresh produce. There are so many items currently in season that go great on a board. This board has an emphasis on fresh produce to give it a farmer's market feel!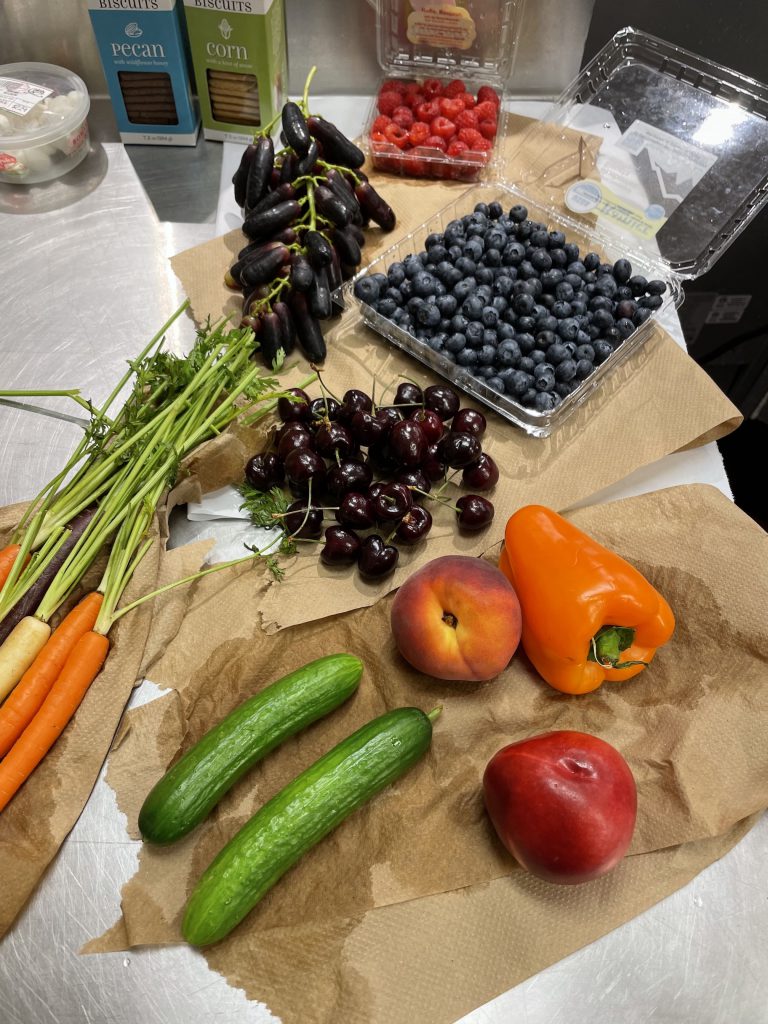 Fruit
It's stone fruit season, so those are a must!
peaches 
white nectarine 
sapphire grapes (not super sweet, but natural sweetness and adds a fun shape) 
Cherries
Veggies
Persian cucumbers  (Rich and buttery)
Orange bell pepper
Carrots (good for color and munching. We cleaned the carrot, cut tip, and halved i, but left some of the stem on it) 
Now all you have to do is enjoy!
From Our Family To Yours