St. Joseph's Day is March 19th and it's a big celebration in Italian culture!
This day calls for a feast! Some people attend parties where friends and family come together to honor St. Joseph or San Giuseppe. You might even notice many St. Joseph's Day tables in your communities around this time as a tribute to him. The traditions vary, but most celebrations include a lot of food and the St. Joseph's Day staple– Zeppole!
Italians usually celebrate St. Joseph's Day with a big feast. The tradition of the feast dates back to the middle ages. Sicily was in the middle of a big drought. This drought was causing crops to dry up and left Sicilians on the brink of famine. They prayed to St. Joseph to relieve them with rain and in return they would honor him with a big feast or a banquet. When the rain came a few days later, they honored him as they said he would.

This tradition is still intact and many people come together to feast in St. Joseph's honor! There are a few traditional meal items for you to enjoy on March 19th!
Fava Beans
It is believed that fava beans are what saved the people suffering from the drought from starvation. Enjoy some pasta with fava beans or find fava beans as decoration on the table!

Pasta con Sarde
Pasta con sarde is a long cut of pasta with breadcrumbs and anchovies or sardines Traditionally, Mafaldine pasta is used. This long, wavy pasta cut is great for gathering all the breadcrumbs on the pasta. The breadcrumbs are meant to resemble sawdust, an ode to St. Joseph's carpentry background!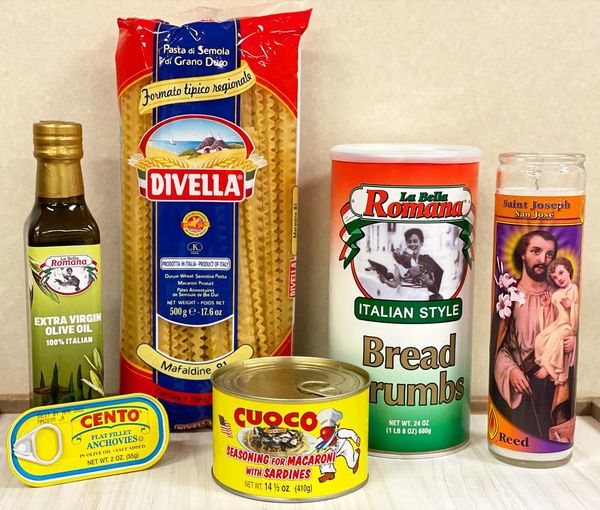 Zeppole
Dessert is a must and on St. Joseph's Day, you're sure to find zeppole on the table! Zeppole are traditional donut-like fritters that are coiled on top. They are stuffed with different fillings and topped with a dusting of powdered sugar. This is fitting because St. Joseph also happens to be the patron saint of pastry chefs! There are many different types of zeppole. Traditional zeppole are filled with cannoli or custard. We make both of these versions from scratch in our bakery! Stop by and pick up your zeppole and try out our new flavors to celebrate St. Joseph's Day!

What are your go-to meals or traditions on St. Joseph's day? Share them down below!
St. Joseph's Day is also celebrated as Father's Day in Italy, so be sure to wish all the father-like figures in your life a Happy Father's Day this Saturday!
From Our Family To Yours