For the third week of Italian Heritage month, we want to highlight another big piece of our company heritage and our Italian heritage– our private label, La Bella Romana.
Our private label was established in 1984 by Angelo. The name is a tribute to the matriarch of our family, Romana Caputo. "La Bella Romana" translates to "the beautiful Romana." The logo features a picture of Romana feeding pigeons in Piazza San Marco in Venice, Italy during Angelo and Romana's honeymoon.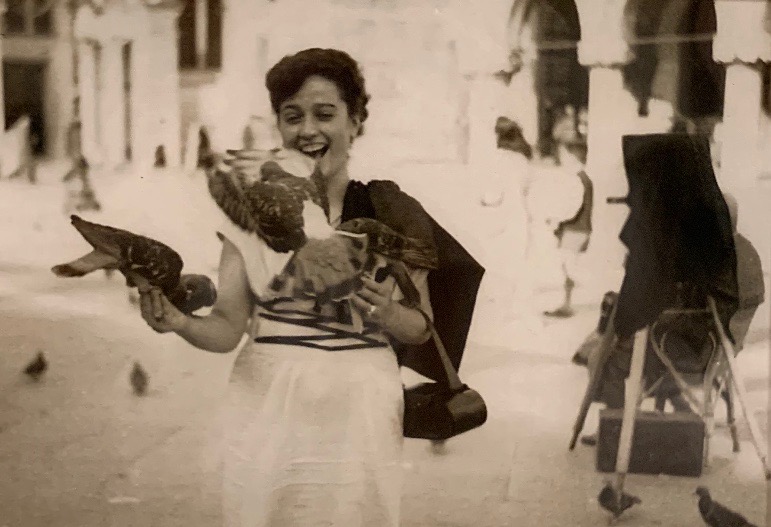 The brand started with California grown tomatoes. We canned the tomatoes and it was the start of the brand. When Angelo was ready to add more products to the line, he knew that his expansion should be Italian staples. Angelo and Romana went to Italy and sourced suppliers who could offer the highest quality products and ingredients. The result of this trip was the addition of pasta and olive oil to La Bella Romana! Pasta and olive oil are traditional components of every Italian meal. These items can be used or prepared in a variety of different ways to satisfy anybody's hunger. These foundational items of the La Bella Romana line embody simplicity, diversity, and deliciousness.
Since those beginning items, the La Bella Romana brand has grown exponentially. The private label now includes bakery items, deli meats, catering and prepared foods, grocery products, and more. There are about 400 items that all have the La Bella Romana name on them.
We have a variety of canned tomatoes– sauce, puree, paste. We know that sauce is a staple in any Italian household. Canned tomatoes are the perfect start to sauce on a Sunday, pizza night, and more. We also import many of our items from Italy in order to bring some traditional items and staples here.
We have spent time sourcing the highest quality ingredients for our products. The rich flavor and delightful smell will make your own kitchen feel like Italy.
All of our private label items are made using only the freshest and highest quality ingredients. The core of our products today is the same as 1984 when it started– bringing the freshest and healthiest foods to you and your family.
From Our Family To Yours