Fall is in the air! As soon as October approaches, people are gearing up for all the fun fall festivities there are to do– hayrides, haunted houses, seasonal drinks, and so much more! A favorite amongst the Angelo Caputo family was picking and carving pumpkins thanks to the unique way our founder and my grandfather, Angelo Caputo, did Halloween!
Our family always had a unique way of carving pumpkins. We wouldn't carve pictures into the pumpkin or make it a Jack O'Lantern, we had a different way of doing it which involved goodies from around the store! It would start with my grandfather taking us to Caputo's to pick a pumpkin. There were so many to choose from and Nonno Angelo would help us pick the perfect one and then load it into the cart. After we picked out our pumpkins, we would go around and find different foods and props for our pumpkins to make faces! We would get things like chestnuts or lychee for the eyes, a gourd or a pepper for the nose,smaller pumpkins or corn husks for the ears, hay for the hair, and no pumpkin was complete without a carrot as a pipe! We could come up with any crazy idea and Nonno Angelo would do it for us.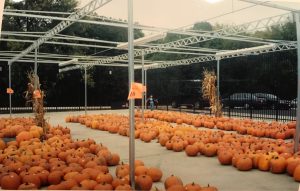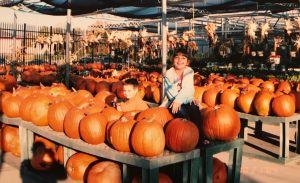 When we got home from picking up our tools and ingredients for our pumpkins, my parents and Nonna Romana were waiting for us with the kitchen ready! The first thing we would do is cut open the top and clean the insides of the pumpkins. We would separate all the seeds and give them to Nonna Romana so that she could roast the pumpkin seeds. We would let them soak in some water so that all the pulp would come off. Then Nonna would salt them, put some olive oil, and put them in the oven! While she was doing this, we would be helping direct the carving! The adults would cut the holes and we would put the food in the proper places. After that, we would draw or paint all the finishing touches on our pumpkins!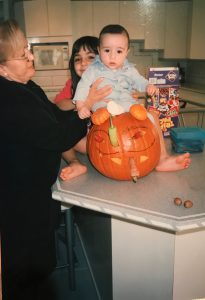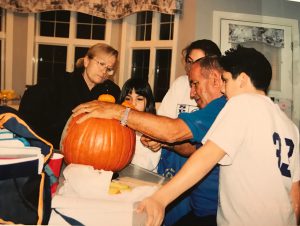 We have a fun Halloween tradition, what are yours? Do you have a unique way that you carve pumpkin or think your design is the best? Stop by Angelo Caputo's Fresh Markets, pick out your perfect pumpkin, then send us a picture of you and your creation! Email your pumpkin carvings to events@caputomarkets.com and the coolest pumpkin will win a $20 gift card to Caputo's! The finalists will be put to a vote and the winner will be contacted by email. Submit your pictures to events@caputomarkets.com before October 29th at 2pm for a chance to win!