Fall is in full gear with Halloween being only weeks away. People are prepping for parties, picking costumes, and even beginning Thanksgiving meal prep. It is the time for sweet treats to take center stage as they are a staple in all the upcoming festivities. A treat that has a perfect mix of health and deliciousness are caramel apples!
Caramel apples came about in the 1950s when Dan Walker, a sales representative for Kraft Foods, was experimenting with leftover Halloween candies from the company. It was a pretty simple combo as all he did was melt down some of the remaining caramels and then dip apples in them to create a crunch. He did not know it at the time, but he was creating a dessert that would become a fall favorite. Dan Walker's simple creation has evolved in many ways. Today, there are many different apples, caramels, chocolates, and toppings that go into making more complex caramel apples.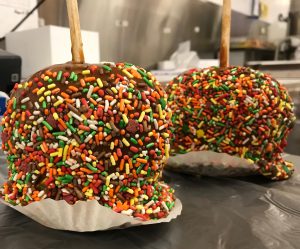 At Caputo's, we believe in simple, fresh ingredients. We use this to make our own caramel apples! Our process starts with the apple. We want the juiciest apples for this dessert, so we use honeycrisp apples! Our honeycrisp apples come from farms around the US, usually Michigan or Washington. Honeycrisp apples range in size from medium to large and are characterized by their incredibly sweet flavor with subtle tart underlyings. Honeycrisp apples, sometimes called honey crunch apples, have a reputation of being one of the sweetest apples. The sweetness and subtlety of tartness compliment each other to make a juicy apple, perfect for dunking in caramel! The next step of the caramel apple process is the main event– the caramel! We prepare to dunk the apples by putting a stick in the core of the apple. We take caramel and melt it down, then submerge the apple in caramel. After the apple is properly and fully covered, the toppings get added! We use a variety of toppings like sprinkles, nuts, and chocolate candies. No matter what topping, the caramel apples are the perfect treat. The sweet, crunchy apple mixed with the decadent, soft caramel and the fun variety of toppings makes for happy and satisfied taste buds! Stop by and get one to test out for yourself!
Don't forget that October 31st is National Caramel Apple Day! Be sure to enjoy a caramel apple while getting ready for trick-or-treating!
Check out this video for an inside look into how we make our caramel apples: