With the holidays coming up, you may be preparing for small get togethers with loved ones. Friendsgiving, Thanksgiving, Christmas, and more… the holiday season means connecting with your loved ones. You may be charged with the task of bringing a dish or maybe you want to add a little flare to your at home dinner! An antipasto tray or charcuterie board is a go-to when this task comes up!
We can help you create the perfect seasonal charcuterie board that is sure to wow your group and their taste buds!
Whenever you make a charcuterie board, you have to remember that it is important to balance your colors, textures, flavors, and shapes!
If you're looking for some advice on what to put on your board, here are some tips!

The Cheeses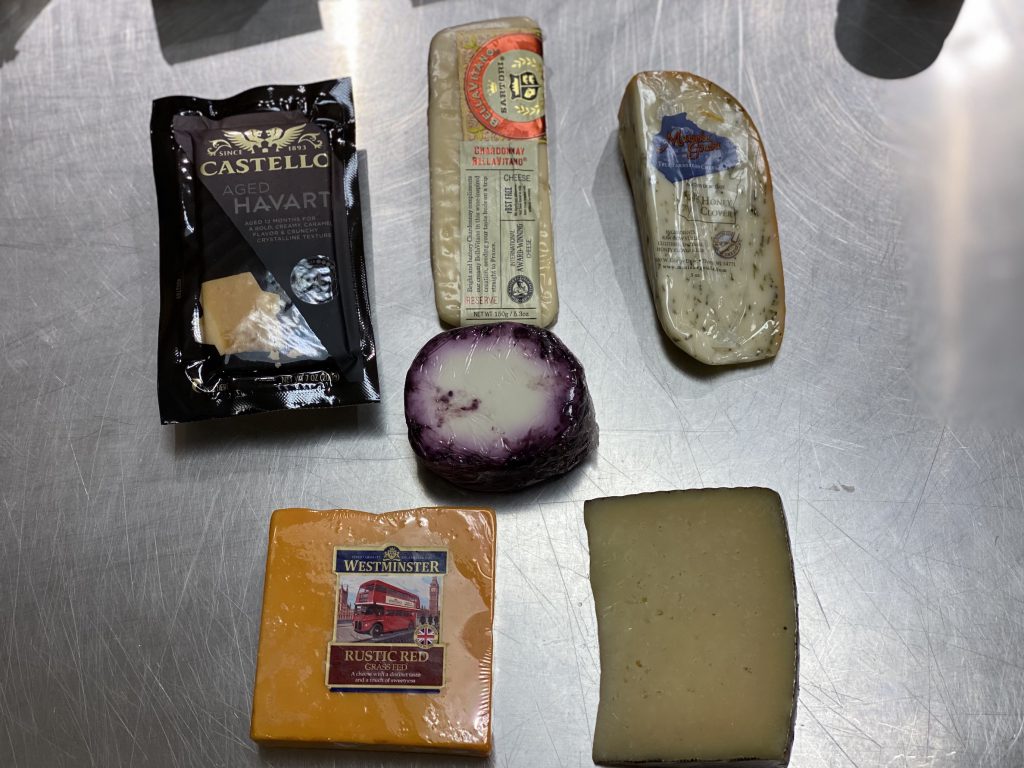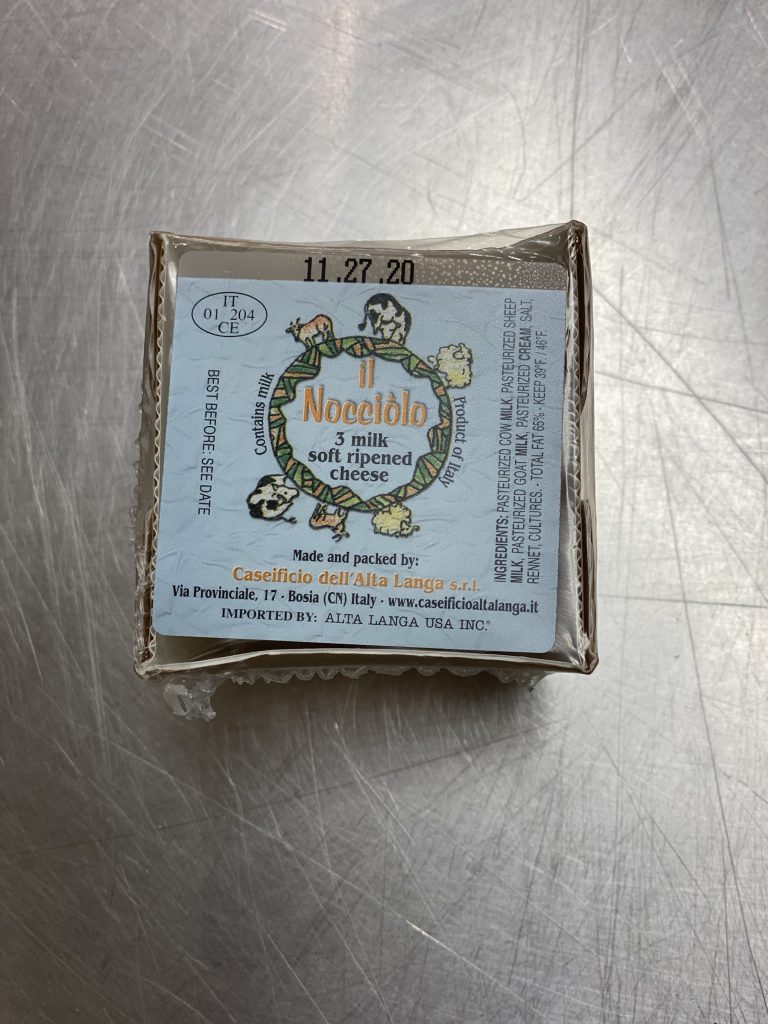 Rustic Red Cheddar
This is a grass fed rustic cheese. It has a bit of a stronger taste and a bit of a crunch to it– it is sweeter and grittier than normal cheddar. The pop of bright orange color makes it really great on a board. For our board, we decided to cube it.
Manchego
This is a sheep's milk cheese that comes from Spain. It is 12 month aged cheese that is dry, but creamy at the same time. The dry cheese helps to incorporate the sweeter items on the board. This manchego is not as salty as normal manchego cheese either! We cut it in even wedges, leaving the rind on in order to make it easier to hold while you eat and add some color. You can eat the rind, but you'll notice a different texture so we suggest not eating it.
Castello aged havarti
This ia havarti that has been aged for 12 months and is bold, creamy, and almost caramel flavor with a bit of a crunch. Havarti is typically creamy, but this one has a crystalline texture that adds little crunches to the cheese. This cheese is a great compliment for many dishes and even melts easily! For our board, we cut it in slices.
Marieke Gouda- Honey Clover
This is a raw milk, unpasteurized Gouda. It is sweet and has a kick at the same time as it is made with honey and a sweet clover herb. We started by trimming the rind off and then cut it in slices!
Sartori Chardonnay
This is an easy and delicious Wisconsin cheese. Sartori creates this line by taking their Bella vitano base– a parmesan. They then dip this wheel of cheese in a vat of Chardonnay wine. The rind is edible and delicious, so make sure to cut in wedges and to enjoy the rind. This cheese has it all– it is gritty, crunchy, and creamy

Lemon blueberry goat cheese
This is a goat cheese that is hand rolled in sweetened blueberries. This cheese is sweet and smooth, it tastes exactly like a blueberry lemonade! It is also seasonal, so it is only available while supplies last. For the board, we cut the cheese in half, then cut the halves again and placed it around the Il Nicciolo which is the center of our board.

Il Nicciolo
This is cow milk, sheep milk, and goat milk blended together to make soft ripened cheese with minimal rind. The outside is more of a butter line and inside is creamy which gives it an excellent flavor! We opened the box, cut the rind off, and placed it right in the center of our board! We put a special Limoncello jelly next to it because adding this jelly takes the cheese to the next level!
Limoncello jelly
With this jelly, a little goes a long way. Imported from Italy, this limoncello jelly is bursting with flavor. It is a great topping for a simple, creamy cheese! Put some on a cracker and top it with the vibrant limoncello jelly!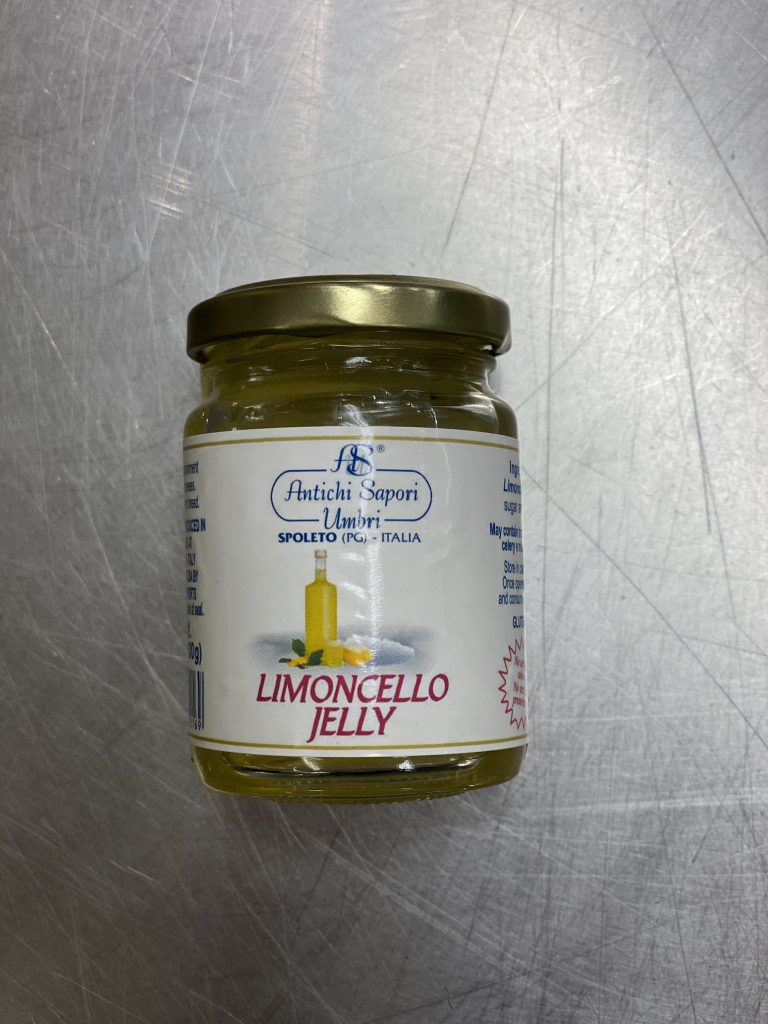 The Meats
We decided to use pre-cut salami and prosciutto because it is an easy time saver without sacrificing quality or taste. We all know that those extra few minutes, especially around the holidays, can be very helpful!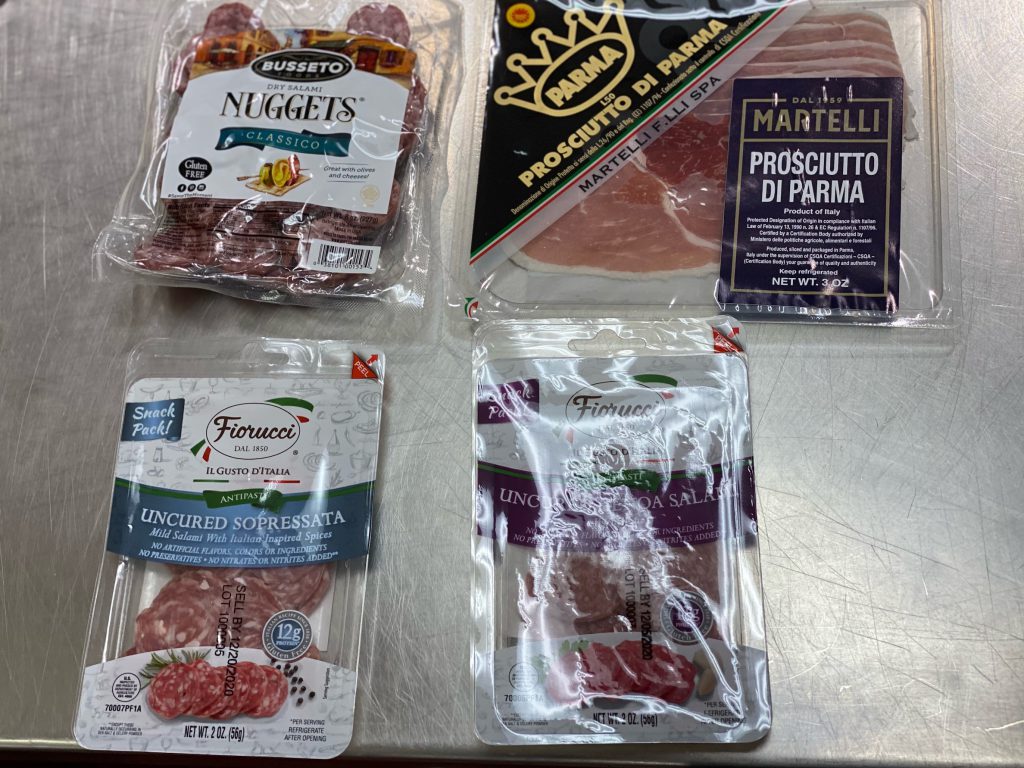 Bussetto salami nuggets
Classic, dry salami. It is simple, but compliments the unique flavors on the board perfectly.
Prosciutto di Parma
We grabbed the pre-sliced package and cut each piece in half. To put them on the board, we spun them into bite sized, round pieces. Want to try something different, but delicious? Try wrapping a pear slice in the prosciutto! You will get the perfect combination of salty and sweet.
Genoa Salami
This is another basic salami that adds a different texture and simple taste to the board. This one is inexpensive and you can use the whole package at once.


Fruit
Fruit gives you texture and a natural sweet on your board and breaks up the other flavors on the board. We used seasonal fruits
grapes
gala apples
d'anjou pear
Dry Figs (adds a good texture and natural sweetness)
The Crackers and Fillers
These are generally used a palette cleanser and are a great way to break up your board! Different flavors, textures, and colors help to create a balance and well-rounded board.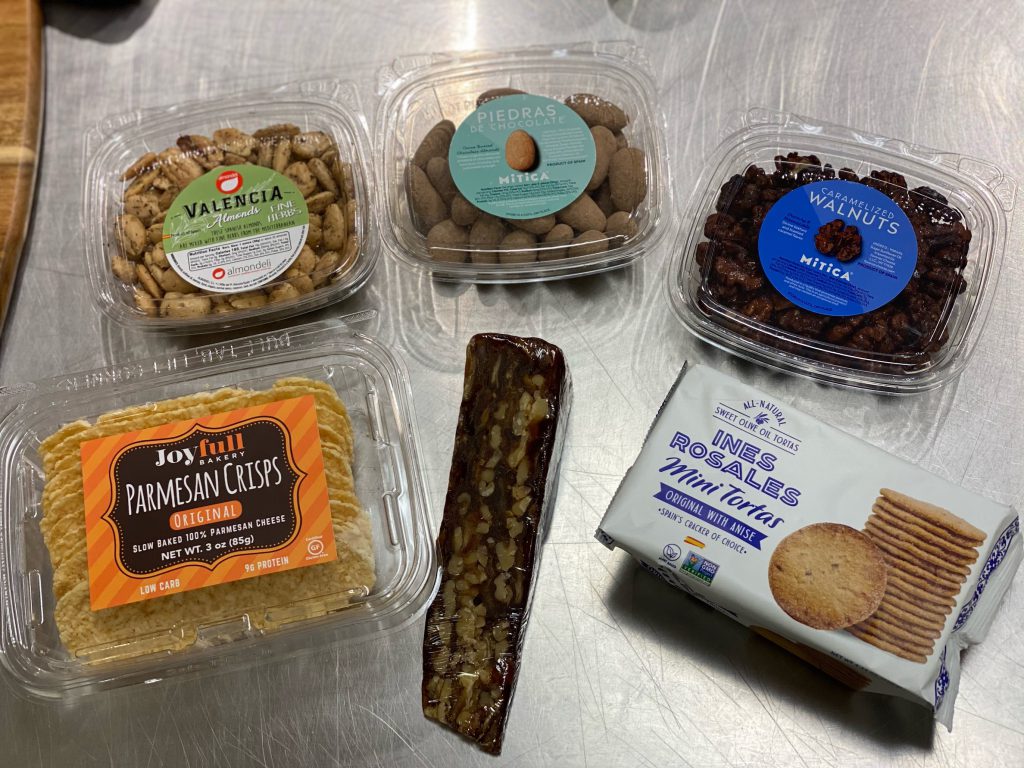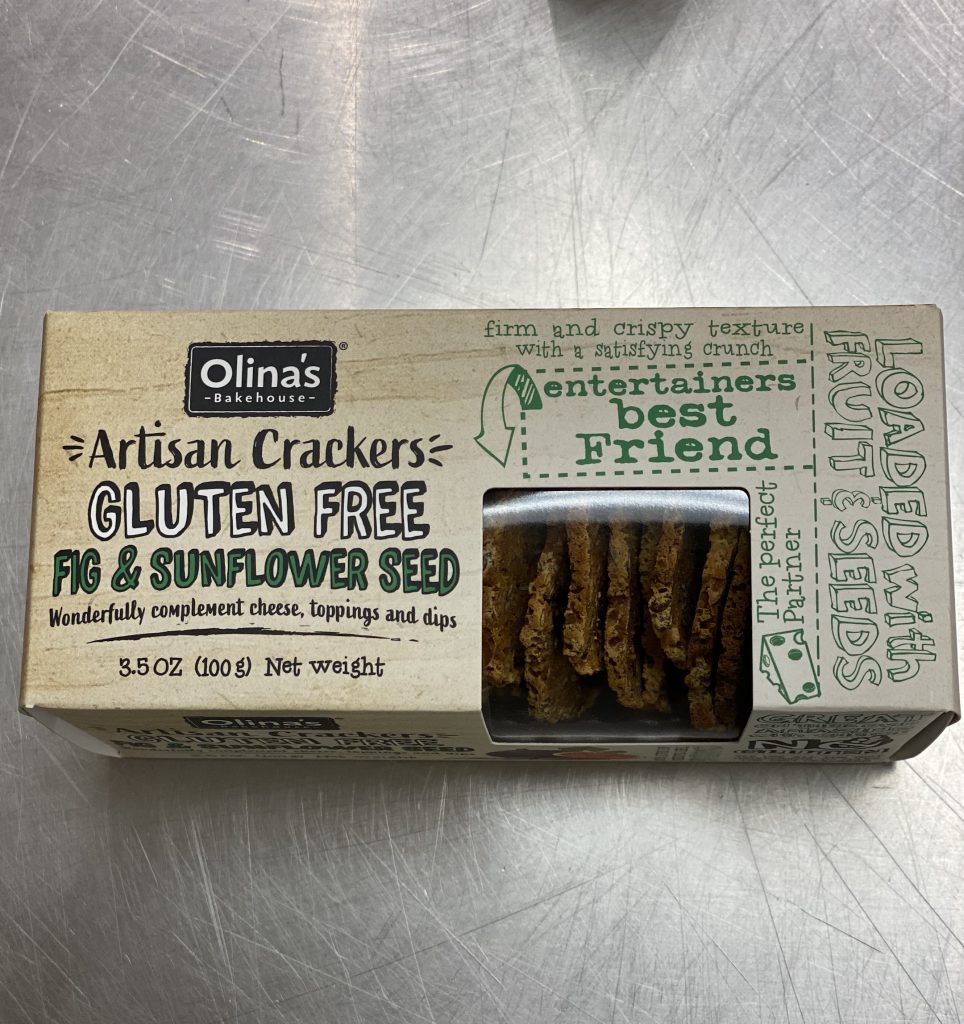 Mini tortas
This is a soft cracker with anise and crystallized sugar. It is sweet which complements the different flavors on the board
Parmesan crisps
Leave them whole and stack them on their side to add a different texture and crunch to the board.
Olina's Fig and Sunflower Seed crackers
These gluten free crackers are firm and add a good crunch to the board. They are loaded with fruits and seeds to make them a wonderful mix of salty and sweet to compliment most any cheese!
Date and walnut cake
Dates and walnuts pressed together to form a cake. This is great with a sharp white cheddar!

Caramelized pecans
These are not too sugary because they are caramelized instead of sugared.
Cocoa almonds
These cocoa dusted chocolate almonds are perfectly sweet and salty with a crunch. They go great with cheese, especially goat cheese

Did you know that we will make the board for you? You pick the cheeses and we will create a masterpiece for you! You can provide your own board or we can get a small one for you. It is the perfect gift or tray to bring to a party!
From Our Family To Yours